Millport GC opts for Wessex CRX 320 rough mower
Wednesday, 22 March 2023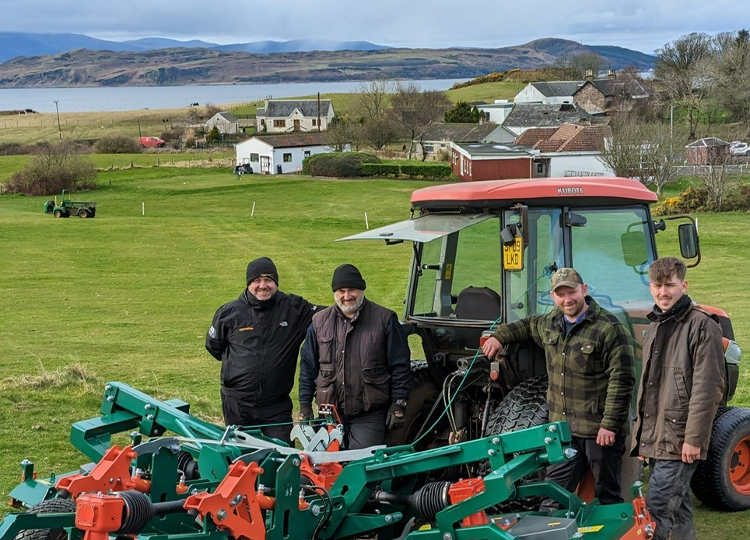 Hopeful for a busy summer, Millport Golf Club has taken delivery of a Wessex CRX 320 tri-gang rough mower from Fairways GM at Inchinnan.
The Argyll & Bute course, designed by James Braid, is unique in that it is situated on the Isle of Cumbrae with an abundance of spectacular views towards both Arran and Bute, on the Cowal Peninsula.
Open all year round, and popular with holiday visitors who take the short ferry from Largs, the course favours the accurate, tidy golfer with four par fours and no par 5s.
The new Wessex replaces their longstanding ride-on rough mower. Head Greenkeeper, Dave Patrick, said:
"I wanted to utilise our tractor more; the tractor goes out for spraying and spiking but is parked up in between, so the trail behind rough cutter was ideal."
"The Wessex has a good reputation; undulated land is prevalent here, so, in our trial, the CRX 320 followed ground contours really well, hugging them close. The roller will help with presentation, especially definition, and give options to stripe in the high season."
"There's no pressure to get the mower out too soon. We're winding up the last of the winter jobs. The Wessex will be busy enough come April and all the way through."
"I'm hoping by changing to a more efficient machine it frees up one greenkeeper for a full day a week. If we save time, that's money saved, and if it saves on fuel, again that's positive for the budget.  With it being more efficient we can do other projects essential to the course."
Stuart Cameron, Area Sales Manager and Wessex International's Area Manager, Steven Brown , were on hand to help the Millport team throughout.
Dave returned to Millport GC in June 2022. He previously enjoyed a ten-year spell with the club from 2005 -2015.