Reaching parts where other aerators can't at Kingsbarns Golf Links
Friday, 04 March 2016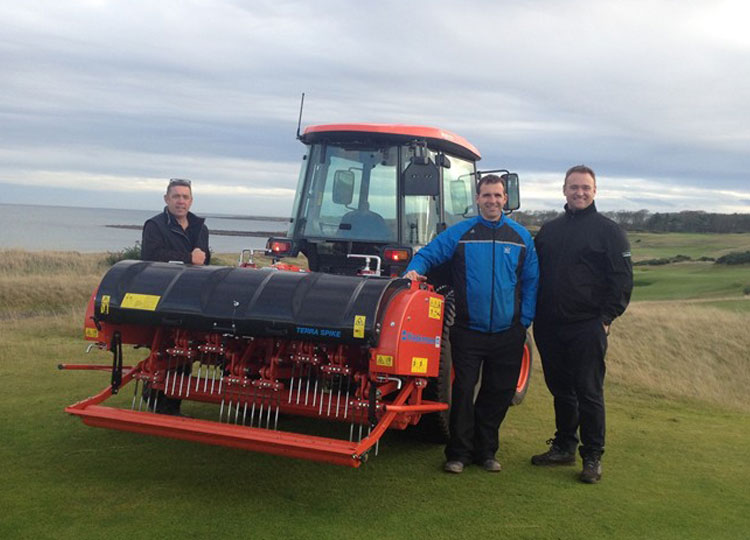 After taking delivery of the deep tine machine in December, the team at the Worldwide Top 100 ranked course immediately set about  spiking greens, tees, fairways and approaches as well as coring a few specific test areas to get the measure of their new kit. Soon they were sufficiently relaxed to take it up the steep banking of the ninth with its infamous middle shelf.
Innes Knight, Course & Facility Manager at Kingsbarns Golf Links delighted with his new GXi8 HD said:
"Until now the severity of the slope on the 9th green has meant it has been somewhere to avoid with an aerator.  However the Wiedenmann has superior weight distribution letting the tractor power it easily.   With 5mm tines it takes it really well.  We're also finding it is twice as quick as our previous aerator. Particularly on the approaches using 20 mm tines it is smooth and fast. Again it's the closeness to the tractor that appears to make the difference and it's safe for the person on board.
"Overall I'd say this is the best generation of aerators; it's faster; it's smooth and it's easy to operate and adjust."
Fairways GM represents Wiedenmann UK in Scotland, and Area Manager (Central), Gareth Rogers, who helped install the machine said:
"Innes and his team have pinpointed the key design features.    All moving parts of the system like springs and heave linkages are positioned behind covers at the front of the machine away from the workings and 'dirt area'. Wear and tear is reduced and the covers help quieten the machine.  The centre of gravity being closer to the tractor makes it exceptionally stable.   The tines on the GXi machines are nearer to the front roller ensuring a uniform job as the spiking action is exceptionally precise and accurate.  Constant hole-spacing is maintained even at high fast forward speed so when following the contours of the ground the quality of work does not falter." 
Kingsbarns co-hosts the annual European Tour's Alfred Dunhill Links Championship together with the Old Course at St Andrews and Carnoustie Golf Links. In 2017 The Ricoh Women's British Open will be contested at Kingsbarns.
Our top picture shows (l-r) Gordon Mcfadyen, Deputy Course Manager,  Innes Knight,  Course & Facility Manager at Kingsbarns Golf Links with  Gareth Rogers Area Manager (Central) Fairways GM.