North Berwick delighted with speed and flexibility of Wiedenmann Terra Spike GXi 8HD
Thursday, 06 April 2023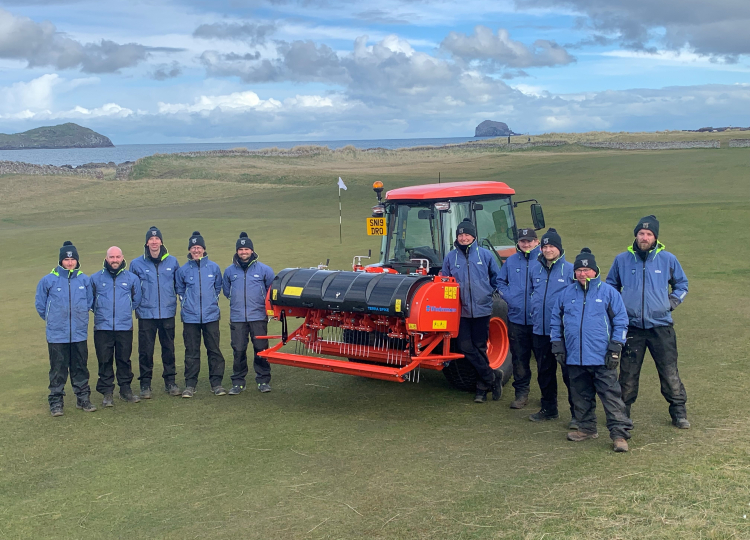 Both the work quality and speedy delivery of a new Wiedenmann Terra Spike GXi8 HD have been hugely helpful to the greenkeeping team at North Berwick Golf Club.
The 'West Links' championship course and the 'Wee Course' with their stunning views and historic holes have been conferred 'bucket list' status from golfers worldwide. The whole season's visitor tee times to the East Lothian destination are fully booked months in advance. Crucial maintenance procedures are planned out to cause the least amount of disruption for members and visitors.
Course Manager, Kyle Cruickshank, who was appointed in October 2022, relies heavily on the two timetabled windows to carry out essential maintenance in which courses close for 2 ½ days in each window.
The Terra Spike deep aerator arrived from Scottish dealer, Fairways GM at Kinross just before the March maintenance window.
"It's a brilliant machine and brings so much flexibility but its arrival, was also extremely efficient. The supply chain has been difficult to deal with in the last few years so it was great to be able to take delivery of the GXi8 very swiftly" said, Kyle Cruickshank.
In November, Kyle participated in the 'Links Club', an educational event for links course managers, hosted by Royal Porthcawl GC, Wales, where Wiedenmann UK was a co-sponsor.
"I've known Wiedemann's Mike James and Andy Kerr for a few years. On the course tour, we got to 'Halfway House' where their machines were displayed.  We had set aside Capital Expenditure funds for a new aerator in 2023, so when I saw them, it was a great chance to catch up and put wheels in motion. Having used the GXi8 for a number of years at other courses, I was very keen to add one to our fleet".
"Within a month we'd had a demo. Some of the team weren't familiar with the work of the GXi8 and were really impressed with its minimal disturbance. The standard of finish was part of the reason we bought it.  Andy had two machines due out of production and was able to reserve me one. A month later, we had the machine on site, in time for maintenance week."
"At the start of maintenance, we ran the GXi 8 over all the greens of the Wee Course, ahead of them being sand injected. It worked a treat. The job it left was really smooth and immaculate. Afterwards when we rolled balls over the surface, other than the tell-tale holes, you wouldn't know it had been out."
The speed of the GXi8 will mean the North Berwick team can target some areas that need extra focus when they get a rare 'window of opportunity'.
"Now we have it – and although the growing season is upon us, - we can still have it out at a moment's notice."
"Some people would just use it on greens but we aim to use it around the whole site, from fairways and carries to tees and pathways. Being a narrow site, we can selectively hit areas with a wider tine to break-up compaction in some of our pinchpoints as well."
"Support from the Wiedenmann and Fairways GM team has been different class; Andy's familiarisation session in particular left us all knowing how to operate and maintain the machine properly," concluded Kyle.