Rapid Terra Spike GXi8 HD frees up more time for Panmure GC
Wednesday, 10 March 2021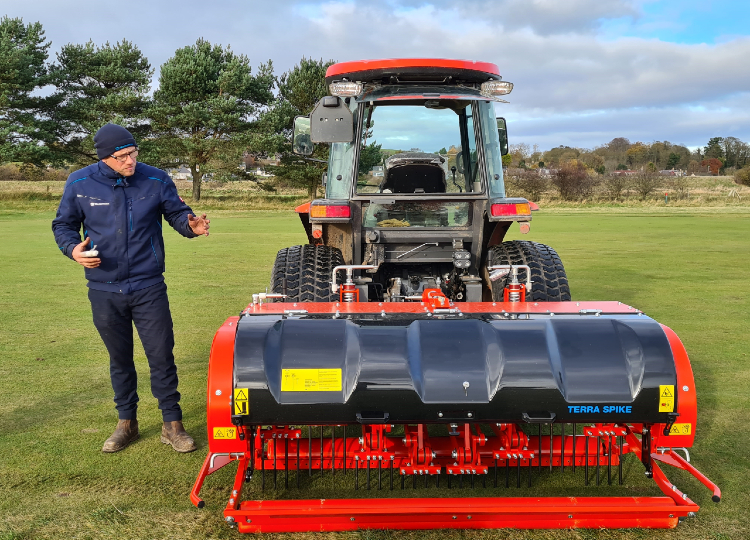 Panmure Golf Club in Carnoustie, Angus, established in 1845, is one of the clubs that originally helped purchase the Amateur Championship trophy. 
A very close neighbour to Carnoustie Golf Links, Panmure, is widely acknowledged as a distinguished links course, and highly regarded for its immaculate fine turf and well kept fairways.
Head Greenkeeper, Gary Nicoll, took delivery of a Terra Spike GXi8 HD in early January, his first ever Wiedenmann.
"I'd been wanting to move to the next level with aeration for a while. We were due an upgrade. Our previous machine had done well but time was right for something faster, with a real clean finish.  Wiedenmann's GXi series is used widely across the industry and its popular for good reason.
"We have around 11 hectares of turf, seven of which are fairways. All aeration is done inhouse, so, it's our team of six and no contractors.  Recently, we have borrowed a machine to have two going at once to get through it more quickly. We do all greens, tees, shoulders and fairways, virtually the full course.  The old machine was 1.6 m wide and just doing Panmure's fairways took around four weeks. I'm confident the team with the GXi8 can knock at least a week off this as it's 20 cm wider and a good bit faster. Even just one week a month would make a healthy saving on greenkeeper time, on fuel and efforts to avoid play being interrupted."
Installation and induction training was by Wiedenmann UK's lead demonstrator, Andy Kerr and Mike Lindsay, Area Sales Manager, from Fairways GM, working out of the Kinross depot.
"It wasn't a case of drop a machine at the gate and leave," said Gary, "Andy cut the PTO shaft then he and Mike systematically showed us how to set every aspect to suit our course. It was as thorough a handover as I've known.  There are lots of moving parts but despite that, it's easy to set up and easy to maintain."
The next day, Gary took the immediate opportunity to do all 18 of his greens and the practice green before a combination of rising water tables, thick ice, and then lying snow, halted meaningful work across the course for over four long weeks.
"In that first run out we got a real good taste of what the Wiedenmann can do for us. Instantly it was quicker than what we had been used to, neater and smoother. 
"The clean finish is such a benefit.  At the demonstration we found on our fairways, even with a moderate amount of heave, say 10°-15°, the GXi8 makes no disruption to the turf surface; Nor does a departing tine lift up the ground.  All disturbance is contained below the surface, just where you want it.  The surface is left stable with no requirement for extra rolling.
"However, after our initial run, the rest of January and February's ground conditions were so poor we didn't have the opportunity to do as much as we had hoped.
"Extra runs are planned for several choice areas. In a few places standing water has remained, so once these patches are fully dried out, we will revisit them with a decent set of tines. The beauty of the faster machine is that we nip out at times of our own choosing; targeting areas that need more work. 
"Going forward we'll be out probably every month from October through until March. I think we'll always stay with 12 mm tines on our fairways.  For us, I don't want golfers ever to ask for any preferred lies so I've politely declined any wider tines, happy with the 12 mm and with the 25 cm depth.
"I've also invested in the multi tine holders which take 5 mm pencil tines. After we come through the winter, I'll play it by ear how often and where we'll go with those. But it's very pleasing to know we're now equipped with the technology to keep ahead with our aeration needs and replicate best practices across the industry," concluded Gary Nicoll.
Fairways GM's, Mike Lindsay said: "The GXi8 HD 's fast speed is derived from its twin drive while its eight legs of tines are timed to hit the ground in pairs, which further enhances its smoothness and makes it kinder to turf. Advance Tine Control (ATC) allows precise tine entry into the ground, all tines exactly spaced, making a neat and clean job with surface disruption negligible. We were just so fortunate that Gary's team got that one run in before the really bad weather took hold."