North Berwick GC chooses Wiedenmann Super 500 for rough management programme
Wednesday, 16 March 2022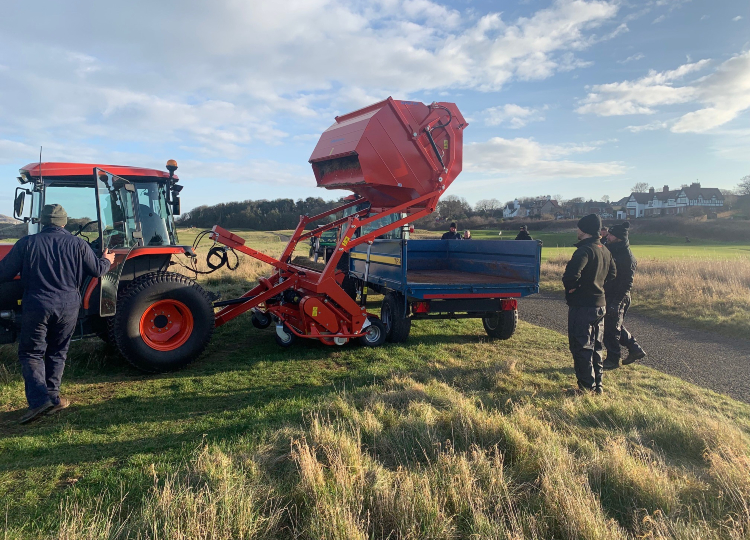 Darren McLaughlan started his role as Course Manager at North Berwick Golf Club's, The West Links and its 9-hole par 3, 'The Wee Course', in October 2020, mid-pandemic.
These past 18 months, Darren has adjusted seamlessly to the demands of a site fondly acclaimed, both here and abroad, for its off-the-scale levels of fun and enjoyment.
In March, North Berwick was named for the first time in the top 10 of Great Britain & Ireland courses, in the latest 'Golf World' rankings. Darren, and his team of seven greenkeepers, plus newly appointed golf mechanic, not unsurprisingly, were delighted by the news.
"It's a real privilege our course is becoming a premier 'bucket list' destination. We want to return it to its former glory; make it as firm and fast as we can. We see ourselves as custodians of the land and as such are keen to bring back native bents and fescues, synonymous with links golf. Everything we do has a minimalist approach. We're about solid, cultural practices which have stood the test of time while also keeping a close eye on modern technology and advancements," he said.
Darren, who has previously held Course Manager positions at Montrose Golf Links and Machrihanish Golf Club, is an R&A Scholar. Last July, he was part of the R&A's agronomy team at Royal George's for two weeks at the 149th Open, responsible for daily performance testing.
"There's little we're doing here that you wouldn't have read in a textbook 30 years ago, we are not looking to reinvent the wheel" continued Darren.
"On the links it's much more about what you don't do… The end goal is to do less, so, minimal fertiliser, minimal water… less means the place looking as natural as possible."
Fundamental to this restoration mission, in February, the club took delivery of a Wiedenmann Super 500, a 4-in-1 sweeper, collector, flail mower and scarifier, to begin North Berwick's rough management programme.
Purchased from Rob Hogarth, Regional Sales Manager at dealer, Fairways GM at Kinross, the Super 500 is widely recognised as the machine of choice on the road to wispy rough.
"We're under no illusions that our rough management programme will take five years. We were extremely fortunate to borrow a Super 500 for two weeks from Stewart Duff at Gullane Golf Club to give our members a preview of what they could expect. We chose a few notorious locations that slow play down, to show the dramatic difference it could make when it became easier to find your ball.
"The main initial effort focused on 'in play' areas but in time, all areas of rough can be targeted. We are keen for native grasses, the bents and the fescues, to thrive and push out patches of Yorkshire Fog and rye. We will thin sections to make the environment more conducive for indigenous grasses to return. Our process is cut, collect, rake then we scarify the bottom. To begin with HOC is 150 mm and we scarify at ground level to -5 mm. Aesthetically, it's at the 'ugly' stage, so we've had to reassure our members that improvement is on its way. There are no chemical solutions or shortcuts to this… it's just solid cultural practices. You aren't going to make the change we're looking for with without the help of a unit like the Super 500."
"We are being selective, targeting places where the ball from the tee shot would get a kick off from the undulations in the fairways, and roll from there. Rough starts around the fifth … so left of five, right of six, left of seven, left and right of eight and behind ten, right of 11 and right of 13. Ultimately, we will have it thinned from the fifth to the 14th where our heavier rough begins and ends."
"Timing wise, we have two opportunities in the year; early spring, before the nesting birds are on site, and then again in autumn, after a full season's growth… The idea being to keep the length of the grass at a manageable height, and, by collecting the clippings, you reduce the nutrient-holding capability of the soil. By removal of the clippings, you are giving the indigenous grasses – the poverty grasses if you like, the competitive edge to grow back and eliminate Yorkshire Fog and the rye grasses."
North Berwick is a GEO certified facility, so Darren's team have systems in place to recycle and promote sustainability.
"The clippings are taken to a compound at the edge of the 7th where all sorts of grass clippings, woody leaves and shrubs are stock piled. We bring in a digger at intervals to turn it over and disperse. Over a period, it breaks down into humus which we mix with divot sand to become a great starter when we patch our tees and fairways."
Darren says dealing with the Wiedenmann and Fairways GM teams has been easy.
"Back-up service is a big part of it. Guys like me will invest in the machines if we know the back-up is there. The training session at handover is also so thorough, that from day one, we all have a total understanding of the machine."