Wiedenmann Super 600 is Crail Golfing Society's new rough champion
Wednesday, 17 May 2023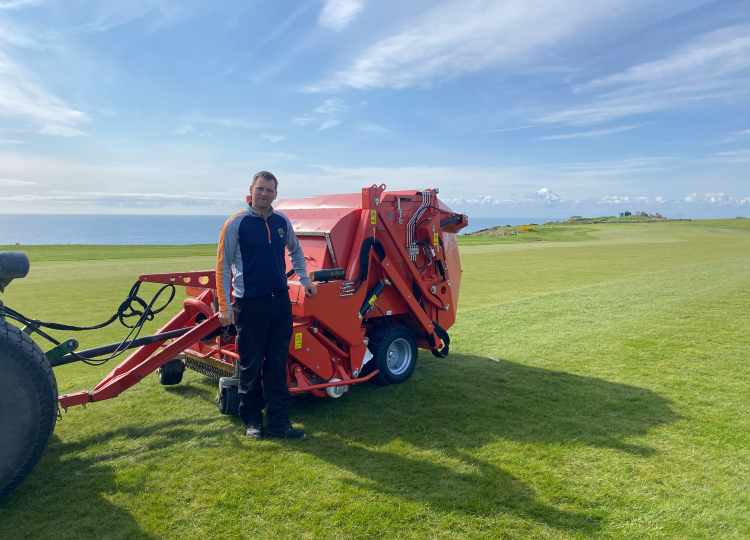 Fife's Crail Golfing Society, the seventh oldest club in the world, has enhanced its rough management programme with a Wiedenmann Super 600, 3-in-1 flail mower and collector.
Across the Society's two glorious 18-hole courses, the Old Tom Morris - designed Balcomie Links and its modern counterpart, Craighead Links, there is an abundance of well-tended rough that demands close attention.
Courses Manager, Bob Meikle said: "When considering a flail mower replacement, I looked at different manufacturers then asked a couple of nearby course colleagues for their specific user experiences of the Wiedenmann Super 500 & 600. We've had a GXi8 aerator for six years and a Terra Combi surface conditioner since 2007, so were familiar with Wiedenmann's build quality and reliability, but 'real life' feedback is invaluable."
The new machine arrived in April from Wiedenmann UK's Scottish dealers, Fairways GM at Kinross, with Fairways' Mike Lindsay and Wiedenmann UK's Andy Kerr, providing installation training.
Bob and his team of 13 greenkeepers, opted for the bigger Super 600 model with its 450-litre tank and host of class-leading Health & Safety features.
"Primarily, it will continue our rough management plans, but we have a variety of other uses in mind," explained Bob.
"For example, if we have a wet cut on our semi roughs, the Super 600 can come along behind, collect stray clippings, and leave a tidier finish. It's quite versatile and more manoeuvrable for its size than its predecessor… we have options to tip it into a trailer or empty it at one of our compounds. It also feels stable and brings peace of mind for the steeper sections and undulations of the courses."
Sadly, the Super 600's stellar reputation as a fantastic leaf sweeper won't get put to the test at its new home on the famous Fife golfing coast.
"Happily, we're all links and no trees here," said Bob.