Super quick Wiedenmann Terra Spike frees up time and fuel for 28-hole Muckhart GC
Wednesday, 18 May 2022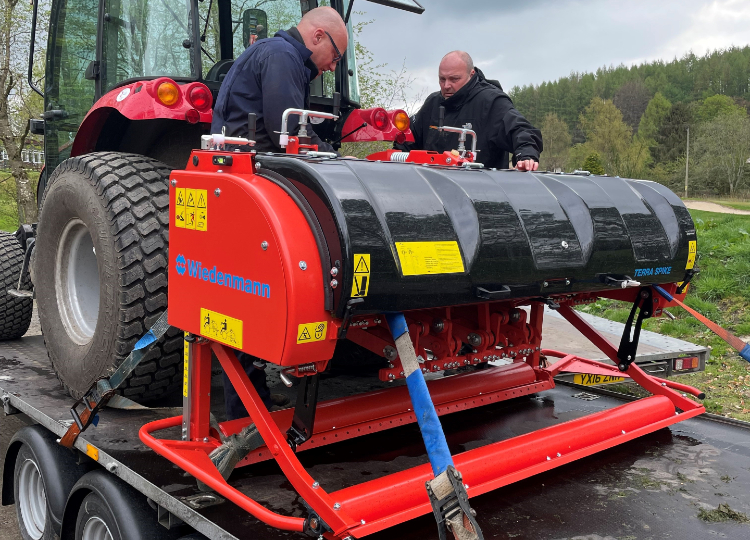 Muckhart Golf Club, just outside Dollar, has welcomed a new Wiedenmann Terra Spike GXi8 HD to its 28-hole site from Scottish Wiedenmann UK dealer, Fairways GM.
Head Greenkeeper, Paul Wilkie, looks after three nine-hole parkland courses and an extra 10th, all spectacularly framed by the rolling Ochil hills. Helping him every step of the way is his team of three full time greenkeepers, William Gerry, Sandy Watson and Euan Porter, and part timer, Alistair Tough.
"The courses are the Arndean, Cowden and Naemoor," explained Paul. "We operate with 18 holes in play and nine under maintenance, with the extra 10th hole for medals as one 10th hole doesn't have a competition tee, so the competition tee sits on the other 10th."
"Our old aerator served exceptionally well but was taking 4½ to 5 days to get around the greens. The fact that we have 28 greens means trading up to the speed of the Wiedenmann is essential. The GXi8 is a machine I know well. It will do them very neatly, to a higher standard, in just 1½ days … that's more than three times quicker. That's a significant amount of 'freed' time when our greenkeepers are as stretched. The bottom line is that every kit addition must deliver economies and efficiencies for the team, which in turn reflects favourably for the course. When you add fuel savings and having a tractor available for other duties, the GXi8 brings efficiency on many levels."
In keeping with many courses, low early season temperatures across Scotland have hindered grass growth. Frequent rain has also caused frustration, but the Clackmannanshire club sees the arrival of their Terra Spike as nothing but fortuitous.
"We'll take every opportunity to move surface moisture and vent gases on the greens with 12 mm solid tines when we can," continued Paul. "For example, there's a competition next week so we'll get out behind and tine down to about 10 cm, then follow on with a cut and a roll."
"Come early winter we'll change to 20 mm tines and get some regular deep aeration started on the greens. We'll also pick and choose some of the fairways, tees and approaches for some attention."
The determination and work rate of Paul Wilkie and his team has earned the course a stellar reputation. Membership is around 900 currently and includes both a thriving ladies' section and enviable juniors' section.
Mike Lindsay, Area Sales Manager for local Wiedenmann dealer Fairways GM, at Kinross, said: "Paul has a good knowledge of the GXi8 from his time working in Wales and England and it had been on his wish list for a while. Across a year, time saved will be considerable. With such a quick machine, when there is a window of opportunity, his team can just nip out to take advantage, bringing so much more flexibility."