Edinburgh's Craigmillar Park GC goes big with a seven-reel Jacobsen LF 577
Wednesday, 29 September 2021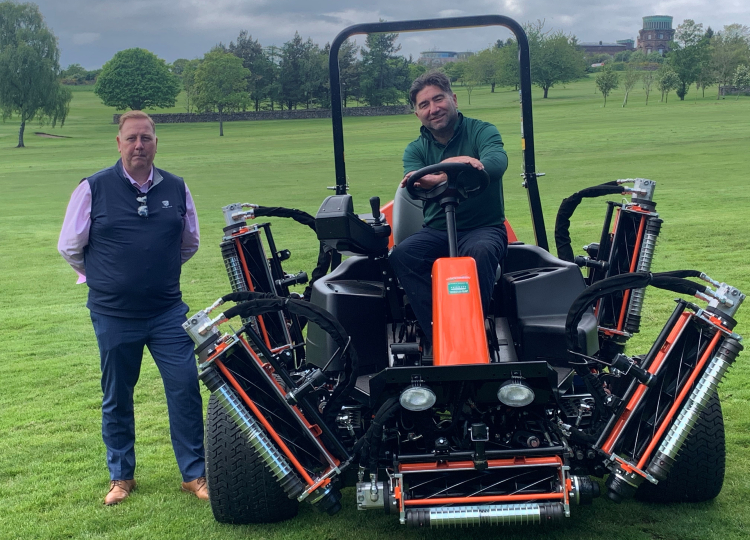 According to club history, Craigmillar Park GC in Edinburgh was constituted in 1895, welcoming both lady and gentlemen members.  Over 125 years later, the club, albeit situated a few miles from its original location, continues to attract a new intake, with over 330 new members recruited and retained over lockdown.
Course Manager, Stephen Sinclair says the boom in the popularity of golf has had a very positive and purposeful effect across the whole club. He is conscious with more players out on course that he and his team of three must attend their largest tasks as efficiently as possible.
When two long-serving fairways mowers needed replacing, he immediately targeted a Jacobsen LF577 high performance reels mower to do the work of both.
"I knew the Jacobsen was the machine for us… seven units, cutting width about 3.5m, lightning quick. Technology advances are night and day since our last purchase, but now we've put it through its paces, productivity and precision of cut are first rate. No complaints at all," he declared.
The Edinburgh club had their LF577 delivered in June out of Fairways GM's Kinross depot, with Fairways GM's Regional Manager, Rob Hogarth supporting him throughout.
"It arrived after a particularly long spell of wet weather when grass growth just took off. It coped so well and by the height of the season fairways were cut up to three times a week. Now it's once a week and soon it will be on a 'needs must' basis, but all 18 are easily done in a six hour stretch, always to a very exact and clean standard. Members have been raving about the change in quality, their positive feedback has been great to hear. For me, what I've really appreciated is that quality has improved achieved by just one operator. Another greenkeeper is now free to take on other essential tasks, while we've also saved on fuel and maintenance time."
Rob Hogarth said: "The Jacobsen LF577 uses the legendary Classic XP cutting units with 17.8 cm (7") diameter units fitted with either 9 or 11 blade reels. Stephen chose nine. They give a uniform cut every time, even when following contours. For operator comfort there's a moveable armrest control pod, so everything is within easy reach – the LCD display screen, the one-touch joystick, and huge amounts of storage. There's even a 12-volt power socket. It's a really comfortable drive."