Dedicated greens team at Muckhart GC makes the numbers add up
Wednesday, 19 May 2021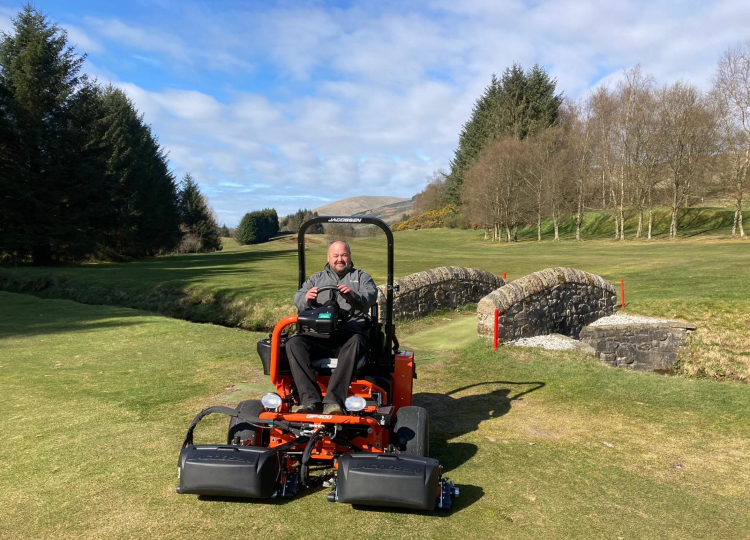 A tight knit greens team of four has helped Muckhart Golf Club gain over 300 new members in 15 months at their 28-hole site, just outside Dollar.
Head greenkeeper, Paul Wilkie, along with William Gerry, Sandy Watson and Euan Porter, look after three nine-hole parkland courses and an extra 10th, all spectacularly framed by the rolling Ochil hills.
"The three courses are the Arndean, Cowden and Naemoor," explained Paul Wilkie. "We operate with 18 holes in play and nine under maintenance, with the extra 10th hole for medals as one 10th hole doesn't have a competition tee, so the competition tee sits on the other 10th."
The significant hike in memberships has created even more demand for tee off times, leading to Muckhart GC taking delivery of a second Jacobsen GP400 ride-on reel mower for their greens, after purchasing their original one three years ago.
"We'd been looking at greens machines for a while and demonstrated all the big ones," continued Paul Wilkie. "We already had a GP400 on site and knew its worth, and as it still outshone the others, we were very happy to get another one."
"As a small team reliability needs to be top notch. Also knowing the quality of after sales service that our dealer, Fairways GM at Kinross offers, it was the right choice.
"We're still cutting once a week, but pretty soon that will ramp up and both GP400s will be out together to get through the work in time. The Naemoor course actually has a bigger footprint than the Old Course at St Andrews, so there's plenty of grass to be cut when it starts growing."
The determination and work rate of Paul Wilkie and his team has earned the course a stellar reputation. 
"All through lockdown, and despite the cold temperatures and rigorous amounts of rain, our greenkeepers have pulled together to help each other. That's been so important, as it's all been a bit of a balancing act, but they deserve every credit.
"You can't fast track greenkeeping, there's too much to learn. You've got to take your time, serve your apprenticeship properly but the skills do come."
Paul has been in post nearly 2½ years, after 20 years away from his native Scotland, including spells at the Ohio State University programme in the US, Wales and south east England.
"It's enjoyable work, although an awful lot of hours. As head greenkeeper you want the course and the way it is presented to be in your mould. The upturn in the quality of the course and the growing membership is definitely rewarding."
Mike Lindsay, Area Sales Manager for Fairways GM, said: "Who'd have believed in May grass is still only being cut once a week? Paul's team is now better placed with the second GP400 to take on their volume of greens mowing. Everything about the GP400 works in the operator's favour; it's fast to get about and the swing out centre reel makes for easy maintenance and adjustment."