Wiedenmann Mega Twister blows in new era at Buchanan Castle GC
Friday, 05 August 2022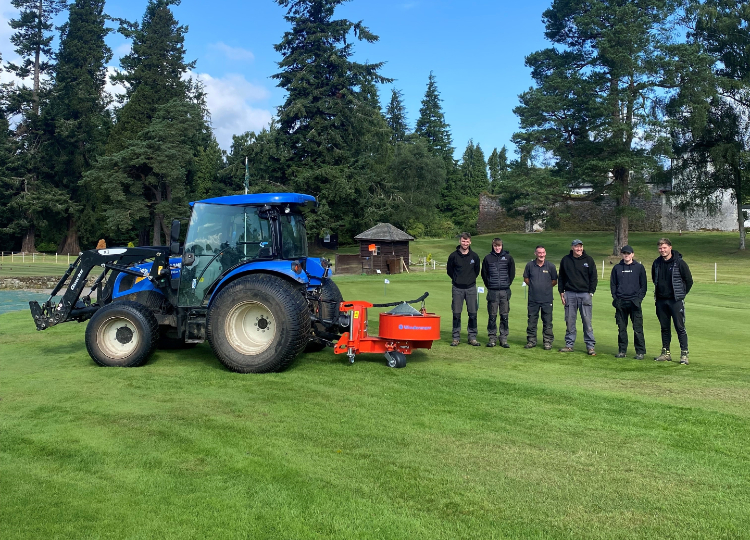 Buchanan Castle Golf Club, at Drymen, is within touching distance of Loch Lomond. Twenty miles from both Glasgow and Stirling, the parkland course, designed by the legendary James Braid, lies in the foothills of the Scottish Highlands.
At the start of summer, Buchanan Castle's well known head greenkeeper, Ronnie Myles, retired after 15 years, and his role has been taken up by two joint Head Greenkeepers, Chris Prior and James Macdonald.
Chris and James have been with the club for 3 years and 4 years respectively. They share a commitment to present the best course they can for members and visitors all year round.
"Communication is key and, so far, we're into a good system," said Chris. "We discuss and agree priorities and projects well ahead. Every morning, first thing, we confirm that day's tasks."
"We know what the other is working on," continued James. "When things change, we keep in touch."
One of their first decisions was the purchase of a Wiedenmann Mega Twister blower from Scottish dealer Fairways GM at Inchinnan, Renfrew, when their existing blower started to fail. The Mega Twister offers a 390 m³/minute capacity and a 230° swivel action.
Buchanan Castle's team of five normally cuts grass across the whole course on Mondays and Thursdays during the season, using a blower to tidy loose clippings from the surface.
"This blower has everything we were looking for," said James. "It's turning circle comes in very handy. Getting in and around greens and bunkers is a whole lot easier. With our earlier blower you had to drive over greens to blow cuttings and debris out of play. This has extra power, in-cab hydraulic controls and easy rotation. You can park up in one spot yet still achieve more. Making fewer tractor movements ultimately is kinder to the turf and quicker. The Mega Twister has been here less than a fortnight but already we are saving lots of time on the fairways alone."
The Mega Twister is the second Wiedenmann machine in the club's fleet.
"Last season, we purchased a Super 500 primarily for leaf collection," continued Chris. "When you have as many leaves as we do, there comes a point where collecting them is the only way. Last year the old blower blew leaves into sections and the Super 500 lifted them. That made a real difference. Come this autumn when the leaves start to fall, the Mega Twister and the Super 500 combined, will make the whole operation easier and faster still."
Stuart Cameron from Fairways GM said: "The continuous airflow on the Mega Twister is powerful enough to shift leaves and debris effectively across wide areas, even while damp."
"With the hydraulic ram option, the operator in the cab can adjust the nozzle height up and down as well as from side to side, letting you react to conditions. With all that swivel going on there's no need to back up or stop. The goose neck nozzle which Chris and James chose, provides even more precision. The support wheels also protect the turf. It's a topflight blower."