Fairways GM's first Wessex sale installed at Milngavie GC
Wednesday, 14 April 2021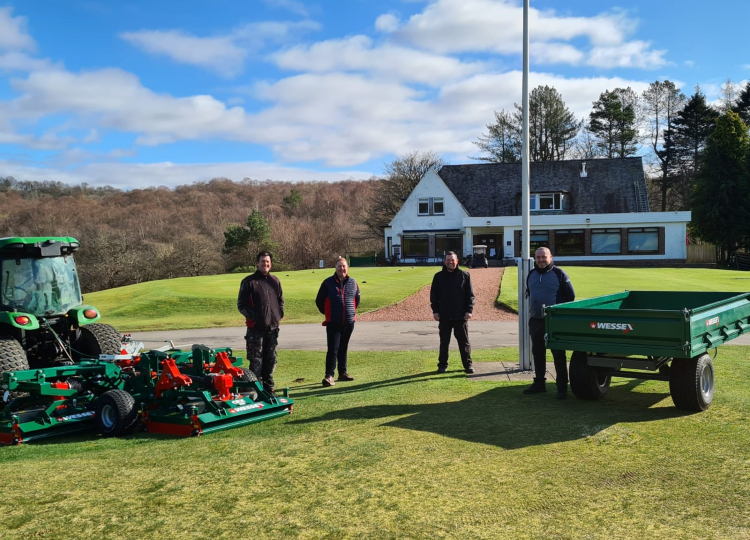 Neil Middleton, head greenkeeper at Milngavie GC, was pleased on two levels when Fairways GM became a Wessex International dealer. Fairways GM, based at Inchinnan, is his dealer of choice, and as he particularly wanted Wessex kit, it made the decision to purchase a CRX 320 semi rough mower and a hydraulic tipping trailer, an easy one.
"It was fantastic to be first. We've had nothing but great back up and treatment from Fairways GM so we wanted our business to go their way," said Neil Middleton. "Stuart Cameron brought the equipment to demo, we were really impressed and so didn't look back."
"The CRX 320 is for our semi-rough, replacing a long-standing cylinder gang mower with over 30 years' service. It is clean, efficient and cuts smoothly, with a super height range. Grass dispersal is very good, rollers front and back are both wide and effective and the three-year warranty was a bonus. The Wessex 1.5-ton trailer is for transporting sand and gravel about the course and is another much needed addition."
Neil started at the East Dunbartonshire club in 1998 and took over as head greenkeeper exactly a year ago, with the lockdown months that followed adding an extra dimension to his new role.
Milngavie GC has enjoyed a service contract with Fairways GM for some of their older fleet. Neil, and his team of three, Stephen Lamberton, Robert Wards and Lucas Slaven, are quick to acknowledge that the rapid and assured service response from each of the mobile service engineers is a huge positive.
"If anything goes wrong the Fairways base is just up the road and literally a phone call away. They now have several mobile units, so whichever engineer arrives, each ensures none of our machines is down for long, and we are getting the help that we need. It's a really good way to work."
Stuart Cameron, Fairways GM's Area Sales Manager said: "Everything come together quickly, and it felt appropriate to be able to deliver our first Wessex products to Milngavie GC. Steve Brown, Wessex's Scotland Sales Manager, has been a huge help with the transition into the new dealership."