ATV rotary mowers – versatility from Wessex International
Wednesday, 10 August 2022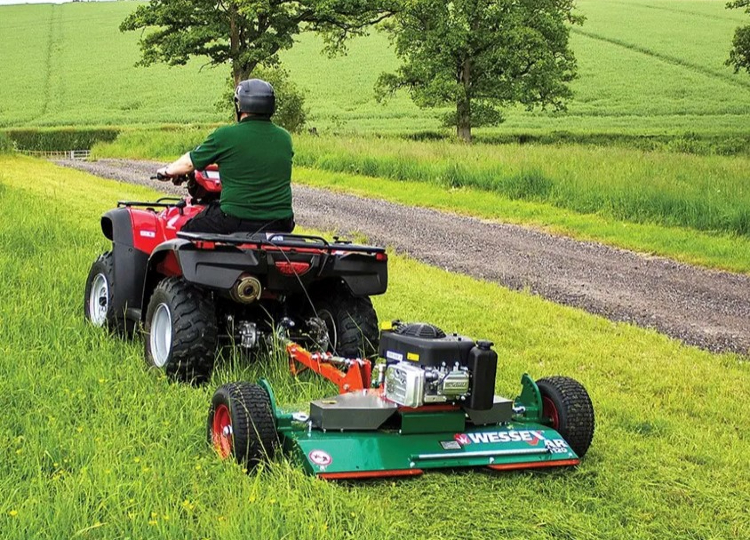 The Wessex AR is a self-powered rotary mower for ATV's, the machine is proving popular with a range of users due to its versatility. Hitched to an ATV, utility vehicle or 4 x 4, the Wessex AR comes with either a Briggs & Stratton, with optional electric start, or Honda engine and is ideal for maintaining regularly mown areas and general paddock topping.
There's a choice of cutting widths: 1.2m, 1.5m and 1.8m and the machines are fitted with side mounted wheels which allow ground contours to be followed accurately without scalping. If you need to mow close to a border or fence there is an optional rear wheeled machine available in 1.2m and 1.5m widths. You do need, however, to consider the towing vehicle has adequate capacity on the draw bar with the weight on the tow hitch greatly increased on rear wheeled machines. That said, there is a third wheel option which transfers the weight to the machines own wheels and leaves the towbar floating. The drawbar can be easily offset to one side to allow the cut to cover one wheel of the towing vehicle and all models feature three overlapping rotors to eliminate uncut strips of grass. The height of cut, between 25mm and 140mm, is easily set using the bar supplied to facilitate the operation of a spring-loaded pin and the bar is conveniently carried on the back of the mower. A turnbuckle on the drawbar also allows the machine to be levelled at any cutting height. Two Vee belts transmit the drive to the rotors via a centrifugal clutch, while the throttle lever is conveniently attached to the rear rack on a quad for easy reach from the riding position. There is no question these are tough and durable cutting decks with 5mm powder coated steel construction and rigid cutter bar blades, well suited to the type of work that has made them one of the most popular self-powered rotary mowers available.
For enquiries, please call 0800 028 1700 or send us an email at sales@fairwaysgm.com.