Introducing the new and improved agria 9600
Wednesday, 24 March 2021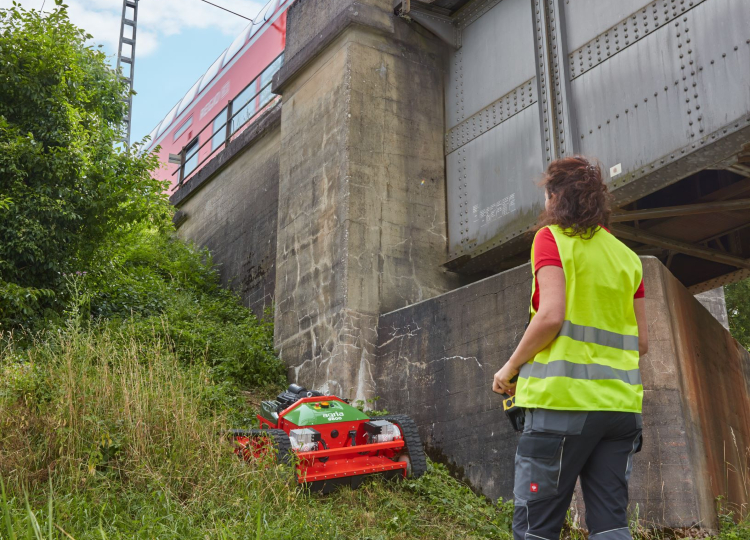 The all new and improved agria 9600 has arrived at Fairways GM's depots at Kinross, Inchinnan, Aberdeen and Inverness ready for the cutting season.
Engineering and software enhancements have made this remote-controlled rotary mulching mower even smarter and more effective on steeper banks and verges than before.
Already popular with Scottish contractors and local authorities for its strong H&S credentials, now it brings more 'no go' areas back under control. The biggest change is a 10% increase on slope incline. Slopes that are 55° are now deemed reachable and safe to work. Risk to staff is minimised because the operator can take a safe position up to 100 metres away using a hand-held control pad.
Wilson Morrison, Fairways GM's Sales Manager said:
"The 9600 is available for demo (and purchase) immediately. Everyone here loves showing it to clients. It's actually the perfect social distancing machine as the operator stands so far away, you can literally be the other side of the car park."
"Essentially it's a mini tank on rubber tracks that cuts and mulches out-of-reach terrain. Once you've had the safety training, you become proficient in a matter of hours. The hand-held control pad appeals to all as it is technology that makes people happy. The person with the broadest smile, though, is normally the person responsible for Health & Safety, as the worry and paperwork are negligible compared to manual strimming and brush cutting. Clients who own the previous version of the machine still report regularly about the positive feedback they get everywhere they go… members of the public, their own customers, and the difference it makes for photography and presentation purposes. They also say how good and convenient it is on the flat."
Manufactured in Germany, the all-new 2021 version has a heavier duty design with thicker steel. The electric motors and generator are more powerful and now brushless. Stronger and greased seal bearings have been introduced while the V-belt now tensions automatically. The agria 9600 comes in two widths, 112 cm and 80 cm. It cuts and mulches in two directions and is effortless on a variety of applications, including fine turf, while offering an adjustable cutting height of 50 -185 mm. Highly productive, it can cover up to 10,000 m² / hr assuming a forward speed of 10 km / hr.
Extra smart technology has been applied inside the easy-accessed control box where the electronics are protected from dust, vibration and moisture. Equipped with sensor technology, the software communicates constantly with the sensors and intervenes in critical circumstances.
For example, it will alert the operator to any harmful objects such as large stones by shutting down immediately. The colour display on the remote-control handset also sends a warning should the machine approach a critical slope or need refuelling.
Innovative 'electric hybrid drive' allows the agria 9600 to be more efficient and environmentally friendly than other hydraulic concepts. Safety Extra Low Voltage (48V) electricity is generated as the petrol engine drives the mower blades and generator. Accordingly, the maintenance-free motors convert the current into powering the tracks. A replacement fuel cannister system makes refuelling safe and easy, even on difficult terrain. Two standard 10 litre cannisters can be easily removed and reconnected. Optional new crawler tracks with non-slip cleat-profile, offer even more grip while a new standard feature of robust collision protection has been added.
For a demo of the agria 9600 you can call: 0800 028 1700