Double Jake arrival boosts presentation for Shotts GC
Wednesday, 25 August 2021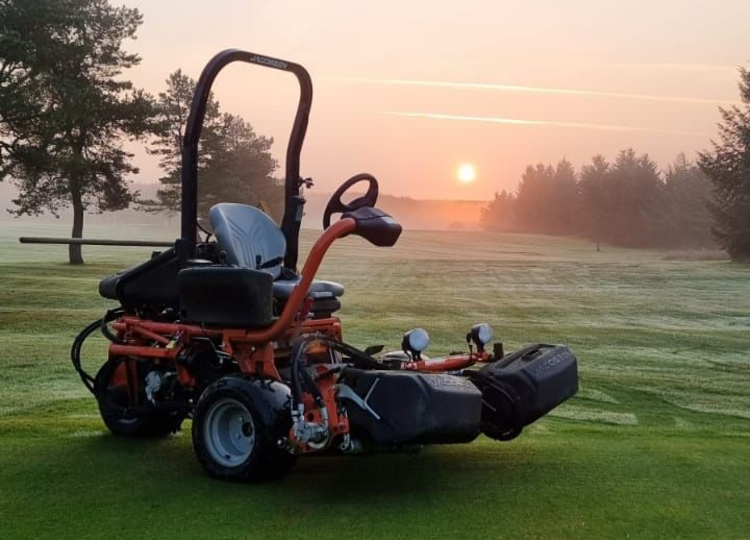 Head Greenkeeper, Andy Kirk, at Shotts Golf Club had good reason to smile when dealer Fairways GM delivered both a new Jacobsen GP 400 ride-on reel mower and a Jacobsen AR331 side-shifting rotary mower in April.
"Thanks to Bob Marshall and the team from Fairways GM, it was 'new toy' day," he said, "but importantly, I knew they would instantly make a difference and save a whole lot of time."
Andy, himself only joined the North Lanarkshire club in July 2020, after a spell as Deputy Head Greenkeeper at Crowwood and ten years previously at Gleneagles.
"Arriving in a pandemic was different but you get on with it. We had a very busy winter putting in much needed drainage and more of the same will happen this winter. Steadily things are going in the right direction."
"The GP400 is massively improving the quality of the surfaces of the tees and approaches. It's upped the presentation level while cutting everything to a great standard quickly, so we're winning on lots of fronts."
"Same with the AR331. Presentation with it is first class. I use it frequently for striping off tees, then following around the edges of the greens with its tighter cut. It's got lots of applications. Where it comes into its own is cutting the tee bankings, a task done fortnightly. We're only a team of three so anything that saves us time is crucial. We can get around them all comfortably and safely in a morning where as before, with strimming and hand tools, that would have been a day and a half. It just frees us up for other duties to make progress elsewhere."
Fairways GM and Shotts GC enjoy a strong relationship with the club already benefiting from many Jacobsen machines within their fleet.