Golspie GC chooses repeat Jacobsen Eclipse 322
Wednesday, 16 June 2021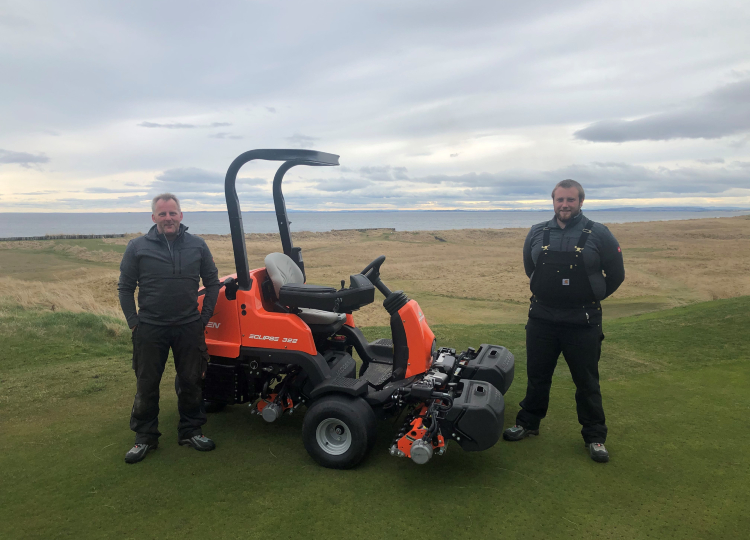 The course at Golspie Golf Club in Sutherland is nearly as northerly as it gets, just 70 miles short of John O'Groats. Designed by James Braid, and overlooking the Dornoch Firth, it is billed as a beguiling mix of classic links and heathland holes.
For the last three years, it has been under the diligent care of head greenkeeper, Muir Ross, who has overseen some significant transformation in a relatively short space of time, half of which has been through Covid-19 restrictions.
"We run a small squad of only three, so right at the beginning, two were out on furlough. But this year, we couldn't afford not to have three of us here," said Muir Ross. "Aside from the three greens staff, there are only two other full time staff members, so it's a tight ship with loyal volunteers contributing their time."
"We've added quite a few new members but because of the nature of our geography, there is a limit to how many. Visitor wise though, it really kicked off last summer and we absolutely can't complain. We got our share of extra traffic which has definitely helped us."
Thanks to prudent management, Muir Ross was given the go ahead in spring to invest in a second Jacobsen Eclipse 322 to supplement the one purchased in 2015 from local dealer Fairways GM at Inverness. In conversation with James MacBeath, head greenkeeper at neighbouring Brora GC, also a James Braid designed course, and just six miles further along the coast, Muir found out that both clubs wanted the same greens mower in similar timescales.
"Buying at the same time as Brora GC meant we were able to structure the deal in a way that suited us financially, along with extra benefits, including longer warranty. I still maintain there's nothing out there that cuts as well as the Eclipse. I'd worked with Fairways before I came here, and the club had a good existing relationship, so it was an obvious decision. Fairways' service engineer, Alasdair Alexander reaches us as quickly as he can and provides a pretty impressive service."
"Currently, we've a lot of events on and are cutting five times a week, just waiting for the grass to take off which will happen any day…  We are cutting at 5 mm but won't drop below 4.25 mm as we set the clip rate on the machine, stick a roller on and roll out to 12 feet up. There's nothing on the market that can cut like the Eclipse."
Muir's team decided not to trade in their older Eclipse, just relegate it down a place in their fleet. "It is worth its second-hand value to us; firstly as a spare machine and secondly for the times like when we spread top dressing, it saves the cylinders on the brand new one. Indeed, the old one was out today, all sharpened with new bottom blades and still cutting really well."
John Morton, Area Manager at dealer Fairways GM said: "The quality of cut, speed and versatility of the Jacobsen Eclipse 322 on greens makes it a coveted machine, especially for early morning set up, so it's not a surprise that both the teams at Golspie and Brora chose to repeat their purchases and both order the same machine again.  Helping two clubs in tandem provides certain economies of scale for us, including savings on transport and time, so we just passed that back and all three of us benefited."