Robert Gordon's College opts for Maredo MT 200 Flex Verticutter
Wednesday, 09 February 2022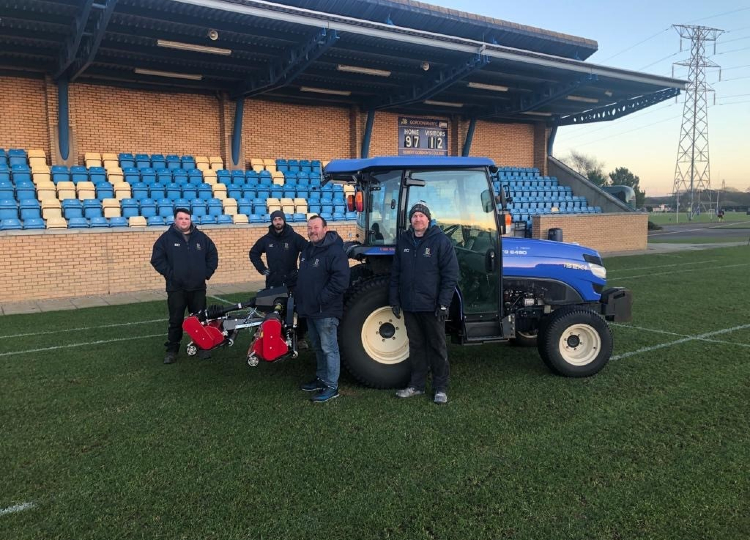 Head Groundsman, Donny Reid, and his team at Robert Gordon's College in Aberdeen, always try to be one step ahead when it comes to preparing playing surfaces. "Our 39-acre site is constantly in use, so we have to be mindful of when and where classes and fixtures are happening. We aim to have the areas prepped and ready for use," explained Donny Reid.
The arrival in September 2021 of a Maredo MT 200 flex verticutter to the school's Countesswells Sports Fields from local ground care dealer, Fairways GM, is a significant purchase in their quest for constant quality. The Maredo is a very thorough and purposeful scarifier and targets the area just below the grass's surface. Carbide-steel tipped blades are spaced 40 mm apart and make very precise slits that cause minimal surface disruption. The unit comprises three independently floating heads and an 'A'-frame with a pivot point making turning simple. Each head measures just over 63 cm giving a 1.9 m total working width. The MT 200 removes thatch cleanly and at speed. Easy adjustment allows for a light scarify by just letting the blades touch the top layer or it can be set deeper down to depths of around 25 mm where it removes much more.
"Controlling thatch in the top layer of a natural grass surface is so important," continued Donny. "The amount of organic matter we can take out with the Maredo is amazing. After we've scarified, we're in behind with the Wiedenmann Super 500 collector, and together they do a lovely clean job. Grass surfaces alone, we have eight rugby pitches, three full-size football pitches, and three smaller 5-a-side football pitches plus a cricket square from April to September, and in summer, we prepare an athletics track. Ours is a multipurpose approach, with our facilities being able to accommodate wide-ranging sports to a high level across the calendar. Last September, the Maredo arrived in time to help with end-of-season cricket square renovations, progressing to light scarifying all over the site, including grass areas between pitches. They'll be back out again from April until mid-June, when we'll be stepping up with more light scarifying, waiting until school finishes at the end of June, to do end-of-season renovations ahead of the new school year. I'm really pleased with the quality and capability of the equipment. They are easy to adjust and pair well with our Iseki TG 6490, another purchase from John Morton at Fairways GM, who we value as a supplier and partner," he concluded.