Portlethen GC chooses Terra Spike GXi8 HD & 4.05 m wide Terra Brush
Thursday, 22 July 2021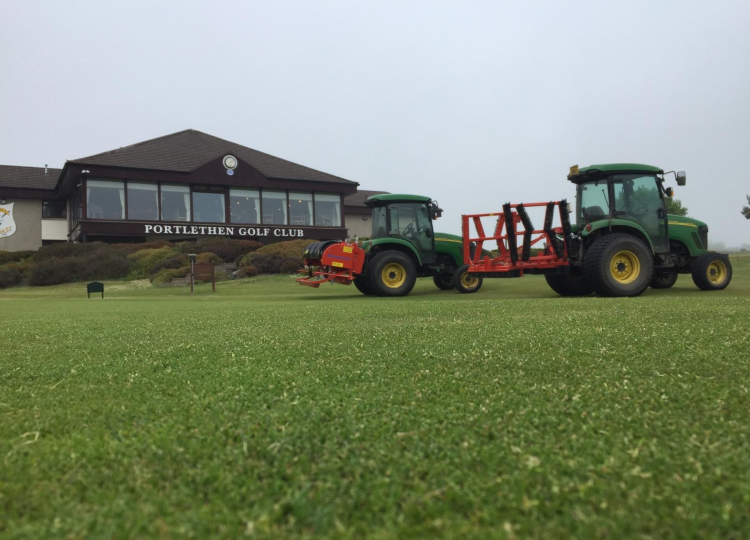 An Aberdeenshire golf course has added a 4.05 m winged Wiedenmann Terra Brush to its fleet at the same time as updating its Terra Spike GXi8 HD. Portlethen GC, six miles south of Aberdeen, made the double investment during early summer. Neil Sadler, head greenkeeper since 2009, had no hesitation in opting for both machines.
"Our GXi8 HD was a like for like purchase. We'd got one of the very first at launch ten years ago and it's literally given hundreds of hours of neat aeration. We part exchanged and the new one took over from where we left off …  it is superb and so versatile, with many tine choices. It has considerably improved the surfaces of our tees, greens and approaches. If our fairways weren't as rocky, it would be used there, too," said Neil Sadler.
Built just over 40 years ago, Portlethen GC, offers golfers two challenging parkland circuits of nine holes and the option of four different courses, all with an abundance of natural features. Course development has seen the planting of around 21,000 carefully selected trees, restoration of a drystone dyke, construction of stone bridges, new tees at several holes and a pond at the short fifth.
Neil leads a team of three, supplemented at times by two seasonal staff. In summer, their day begins at 05.00 am giving them three hours to work on the course ahead of first tee off at 08.00 am.
"The more we do ahead of play the better. Once the golfers catch you up, it can be a dangerous sport," continued Neil, who unfortunately ended up in A&E twice last year, after being struck by a golf ball.
"Our club is supportive. They appreciate we need kit that helps us do the job efficiently and quickly. The Terra Brush was another easy decision. I'd seen the Wiedenmann demonstrated and remembered it. Our previous brush had given good service but had only one row of bristles on the wings. The Wiedenmann has four rows of bristles across its entire extended width; the row pattern is a mixture of straights and diagonals.  The bristles, therefore, are more consistent and connect better with the turf, even on undulations, so really do stand the grass up or work the top dressing in harder. We chose the black medium firm bristles."
"Particularly at the back end of the year, September through to October, the brush is out first thing every day, brushing dew from the fairways and approaches. A quick pass keeps the fairways clear of debris, the removal of the moisture leaves the grass plant drier and we follow on with a clean cut. Later on, when you are not cutting as much, brushing just keeps the presentation levels high. It is fantastic for sward refinement and standing the grass tall."
"We've yet to have time to use it for much top dressing, just a few greens when we had our installation training, but I know it will work well."
Neil already has a Wiedenmann Mega Twister blower with a 230° swivel capability and a Wiedenmann 1.7 m Terra Rake in his fleet.
"I've not quite got the full Wiedenmann set. The Super 500 is on my wish list but that will have to come later," joked Neil. "No surprises, we need a strong blower to manage our leaves. They are quite a job; the Mega Twister is sufficiently powerful and its moveable spout allows the tractor to keep moving, avoiding frequent stops to turn round and re-position."
"We take the Terra Rake through the semi rough before it is cut to clear it out and remove thatch, and it gets run through the fairways a couple of times during the season. It's also good with the leaves as well as lots of other uses. We've neither had opportunity or time to work with our Wiedenmann machines in combination yet as the season is in full swing, but it' s only a matter of time," concluded Neil.
John Morton, Area Manager at Fairways GM, the Scottish dealer for Wiedenmann UK, and Wiedenmann UK's Andy Kerr were on hand to install both machines.
Portlethen GC hosts the Scottish Men's Amateur Championship jointly with Murcar Golf Links from July 25-26 followed by the Scottish Men's Match Play on July 28-29, 2021.