Jacobsen AR522 contour rotary mower helps holiday village prepare for re-opening
Wednesday, 17 June 2020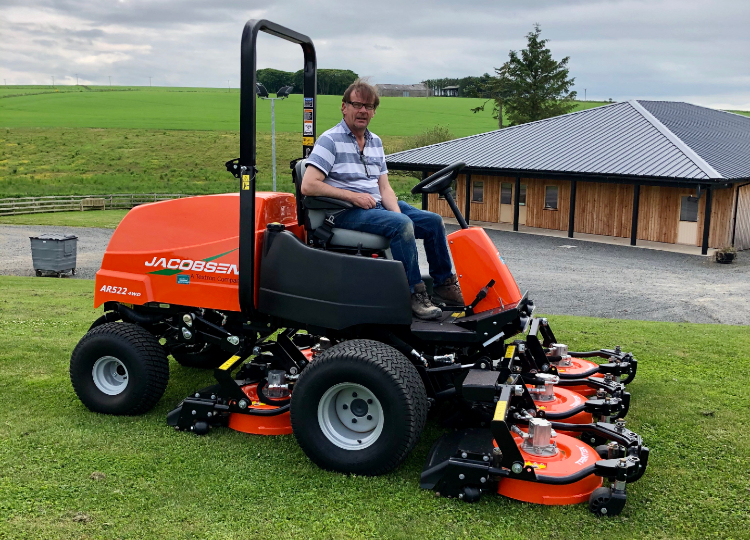 The team at Greenwood Loch Holiday Park & Activity Centre, Fisherie, near Turriff, has been working behind the scenes getting ready for re-opening. Greenwood Loch is a wonderfully scenic 200-acre family site with an abundance of nature and wild life. It welcomes campers, touring caravans and has holiday homes for ownership or hire.
Their preparations have included the purchase of a Jacobsen AR522 contour rotary mower from Fairways GM to keep the grassed areas neat and in top condition.
Director Steve Donnelly (pictured) bought a similar machine three years previously at auction. When it needed replacing this summer, he decided to buy the same machine again, this time a new one.
Wilson Morrison, Fairways GM's Sales Manager said:
"Neatness and reliability were hugely important in this purchase. Steve and his team required a machine which would follow contours and climb hills smoothly without fear of scalping. Another key specification was to reduce the amounts of lying grass and show no clippings so they could maintain a high standard of presentation across the park.
"Because the AR522 is a five-gang rotary mower equipped with SureTrac™ four-wheel drive traction, weight transfer control and high-performance decks it answered their brief perfectly. It mulches really finely, requires very little maintenance and wet parking brakes deliver safe braking on even the steepest of slopes."
"We were delighted to supply Steve with exactly what he wanted."