Major Improvements at Kinross Golf Club after Jacobsen Investment.
Monday, 02 July 2018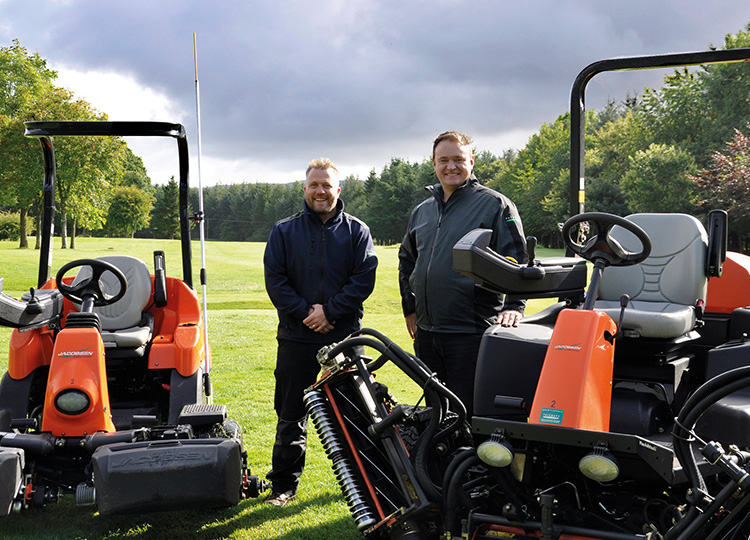 Kinross Golf Club has recently made major improvements to both its 18-hole golf courses. including undertaking bunker renovation work and investing in maintenance equipment from Jacobsen. Fairways GM demonstrated and delivered the machinery from its Kinross depot.
Course Manager Andy Crawford commented; "We have made a huge effort to improve all aspects of the golf course. It was important to us that we invested in the correct machinery to manicure both courses and really show off what we have been working on over the past few years."
Kinross Golf Club features two courses, The Bruce and The Montgomery. As well as renovating bunkers, the maintenance team at the Club has created four new greens in the past two years, which, combined with the purchase of two Jacobsen Eclipse 322 greens mowers, has made the world of difference. 
The new Jacobsen machinery chosen by Andy and the greenkeeping team includes two Eclipse 322 greens mowers, two TR-3 trim mowers and two LF570 fairway mowers. 
"One of the best machines I have ever used is the Eclipse 322," Crawford said. "The quality of cut is second to none and our members have been very complimentary about the condition of the greens. Also, the LF570 has done a superb job. Our fairways have improved dramatically;
I don't think we have ever seen the course looking so good. I couldn't be happier with all the new machinery that we have brought in.
"Our decision to purchase from Fairways was largely due to uncertainty surrounding our previous dealer, and we had heard fantastic things about Fairways and the Jacobsen equipment that they distribute. I have to say it's the best thing we've done. The knowledge of the staff is great, and any back-up and support is received almost immediately. The whole process has been a pleasure, and this is reflected out on the golf courses."
Gareth Rogers, Area Sales Manager for Fairways GM, said:
"It has been a fantastic experience to work with the team at Kinross. We strongly believe in the products that we sell, and the results speak for themselves. Fairways prides itself on customer service and after-sales support, and we very much look forward to providing this unprecedented level of service to Kinross, and building a strong relationship going forward."