Further Jacobsen Eclipse 322 for Fife's Forrester Park Resort
Thursday, 08 April 2021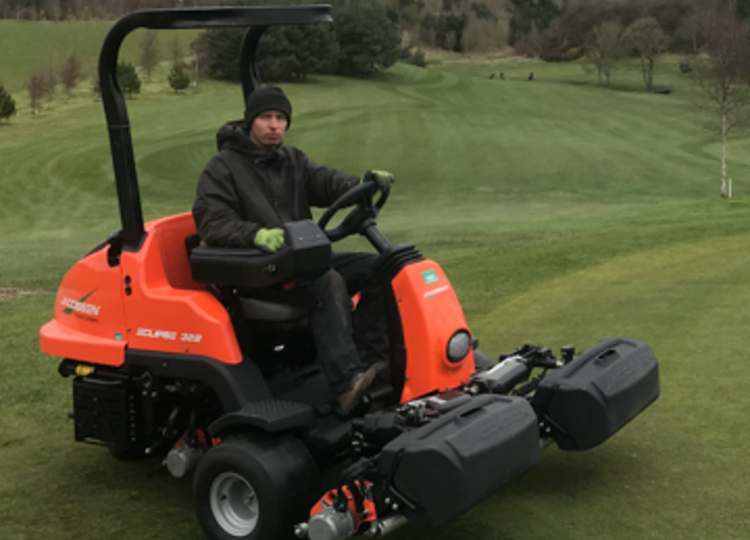 With summer around the corner and restrictions lifting, the team at Forrester Park Resort, Cairneyhill, is upbeat and positive about the months ahead.
Lots of weddings and hospitality guests are booked for when the Resort's bars and restaurants return, with many thoughtful touches in plan to make visiting more special and more memorable.
Golf has remained open throughout; both the driving range and the immaculate 18 hole championship course, have been consistently popular destinations for local golfers in central Fife. A policy of full summer greens and tees year-round, and always 'no mats' has meant only a very occasional hard frost or snow day has closed the course.
"We can't wait to have the whole resort back in action again and welcome everyone," said Director, Bobby Forrester. "Golf has been a constant for us and steadily we have gained new members, particularly, in the last month. We've kept ourselves busy and are ready to go up a gear."
"Our new Eclipse updates our fleet. We bring in a new one and then relegate one of the older ones. We're virtually all Jacobsen now, and have been for many years. Fairways GM at Kinross is literally 20 minutes away and that means if anything ever goes wrong, it can be instantly fixed. Our team likes the Eclipse, they appreciate how easy it is to change the cutting scheme and its versatility. It's quick and neat, too. We've actually cut all the way through winter, weekly still now, but as temperatures pick up, we'll be cutting greens daily; this new Eclipse doing nine holes and our next newest Eclipse, the other nine holes."
Fairways GM's, Area Sales Manager, Mike Lindsay said: "The team at Forrester Park knows their machines. They also have an LF570 lightweight large area reel mower, an AR522 contour rotary mower and a G Plex 111 ride on. New members are in for a double treat. Forrester Park is such a consistently well drained course, it never closes for rain, and the catering facilities are pretty special too."