'Best all round' package brings three purchases from Fairways GM to Cambuslang GC
Wednesday, 08 June 2022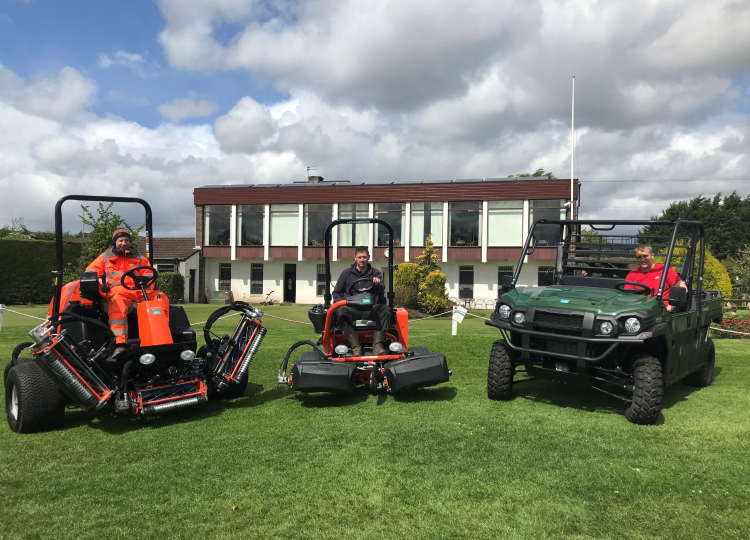 Head greenkeeper at Cambuslang Golf Club, Stephen Cameron, says a combination of competitive pricing, quality machines and after care service made it an easy decision to buy three machines from Fairways GM at Inchinnan.
In May, the south-east Glasgow club took delivery of a Jacobsen LF570 fairways mower, a Jacobsen GP 400 tees mower and a Kawasaki Mule Pro DX.
"The two mowers were replacements for older machines while the Kawasaki was an upgrade to a bigger model," explained Stephen.
"The LF570 is good on undulations. At two of our holes in particular, the fairways are full of contours. It follows them effortlessly, while leaving a clean, precise cut."
"The GP400 is for our tees and approaches. It must be manoeuvrable around bunker edges. Some of the turns are tight, and it doesn't leave any tyre marks which is an improvement on before. I'm impressed by its cut, too."
"The Kawasaki Mule Pro DX is just brilliant. Our last one was seven years old, so we upgraded to one a little bigger. The amount of gear you can get in the back is fantastic. It carries so much; a whole pallet of turf, for example. We've mostly been using it for equipment likes rakes, mowers, strimmers, but have filled it a few times with bunker sand. With a full load it still handles well on bumps and climbs hills no problem at all."
A customer of Fairways GM for seven years, Stephen rates highly the reliability he receives from his local dealer at Inchinnan.
"The aftercare Fairways provides is second to none. If you have a breakdown, they are out the same day if not the next morning. It's a big part of the purchase decision to know you will be so well looked after."
In his 14th year at Cambuslang, Stephen and his team of two are on a mission to continue to try to add quality to their course. Members gained during the pandemic have remained and the parkland course is very busy year-round.