Multi-talented Wiedenmann Terra Float Air gives owners dozens of options
Wednesday, 02 March 2022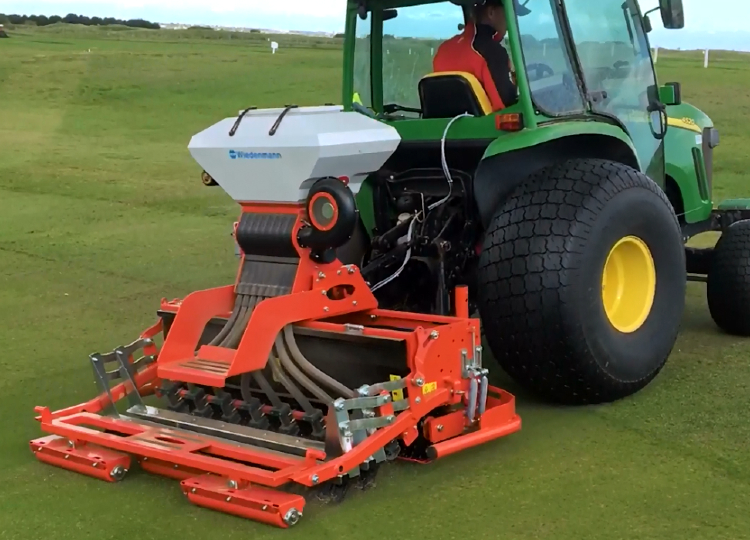 A Wiedenmann Terra Float Air brings endless possibilities for turf professionals.
With rates as low as 1 g per m², the pneumatic air seeder offers class-leading features at every stage of the overseeding process. Additionally, when not in use for seeding duties, it doubles as a proficient surface conditioner.
Mike James, Wiedenmann UK's Northern Sales Manager, said: "Seed is an increasingly precious resource, not to be squandered. You can get a complete take across the 1.6 m width of this machine."
Regardless of the type of seed you are sowing, for example, bent, rye, fescue, meadow, or Bermuda, the Air's set up time is minimal.
The process starts with the operator inserting the chosen seed into size-appropriate dosing sleeves. Wiedenmann offers multiple dosing options for every seed type, including soft-touch dosing sleeves for coated seed, which vitally keep protective coatings intact.
Next, the seed bed is determined by selecting from a range of hole-making tools, including star and cone-shaped ones, at 5 mm and 8 mm in diameter. These tools have capacity to make 1,500 holes or 500 slits per m². Before setting off, the operator simply inserts the selected tools into a heavy-duty floating spike roller. The roller is formed in three parts and floats effortlessly to follow contours. Whether on tricky undulations or on straight terrain, the roller loosens and aerates the soil down to 30 mm, creating uniform 'pots'.
A unique feature of the Wiedemann machine is that all aspects of seed delivery use electric-drive technology. The seed-dosing sleeves and fan are both electric powered. Seeds are delivered pneumatically down a series of pipes onto deflector plates, which direct the seed into the plant 'pots.'
Everything can be calibrated from the cab. An on-board computer stores data from previous runs and allows you to amend the application rate at any point in the process. This allows for 100% accuracy, important when dealing with small quantities of seed or indeed, valuable, or rare types of seed.
After the seeds are in the ground, a double-layer sweeping brush follows on and it too has floating properties. A further three-part roller, like the one on the Wiedenmann Terra Spike GXi6, means you have an optimal brush and roller combination to incorporate top dressing materials to the ground, before smoothing the surface.
Customers can specify the firmness of brushes, so invariably those on links golf courses, working with fescue grass choose a softer brush. An optional load relief kit also allows the operator to vary the weight of brush. Depending on turf type, or indeed, weather conditions, the brush action can be made lighter.
Because seed is air blown, even in damp conditions, overseeding can still go ahead. If, conditions worsen mid-way through a seeding run, the operator has the facility to suspend the brushing action, so they can continue working.
"The Air gives its user huge scope and great advantage," continued Mike James. "The intensity of the hole pattern with 8 mm tines and the ability to set the working depth precisely, makes for the perfect plant pot for bent grass. You can also accurately spread low volumes of bent seed for little and often applications. The accuracy of the application rate is such a standout."
"Another much admired benefit is you can choose to turn the seeder off and give yourself an excellent surface aeration tool with a working depth, down to 65 mm. It's truly multi-talented."
The Wiedenmann Terra Float Air is available now for purchase from us at Fairways GM, for enquiries please call 0800 028 1700 or email us at sales@fairwaysgm.com.