New premium model of agria 9500 gains extra 10 cm & Kawasaki engine
Wednesday, 11 May 2022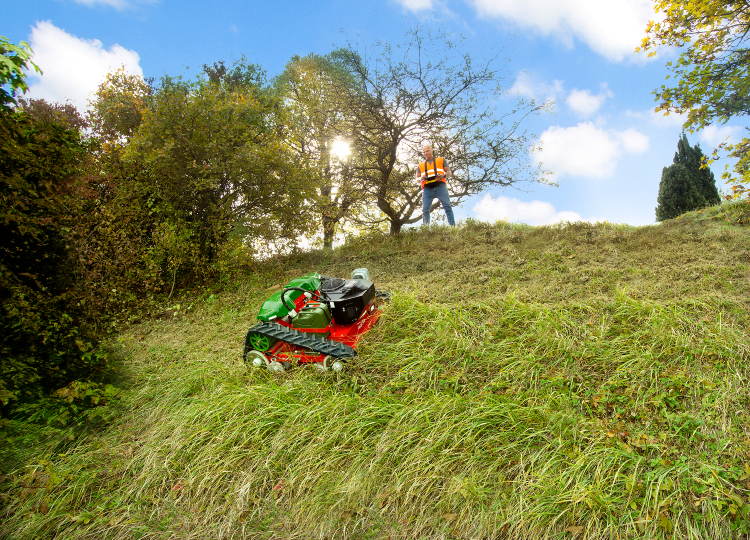 Agria's remote controlled slope mower, the agria 9500, now comes in both a standard and premium version.
The 70 cm wide standard version was introduced two years ago with a 16 hp Briggs & Stratton engine and has become a popular machine for those maintaining and mulching slopes and gradients up to 45°.
Buyers can now choose a second model, the premium, which is 10 cm wider and powered by a Kawasaki 17.3 hp engine. The premium model can also work on slopes as steep as 50°.
Andy Kerr, lead demonstrator for Agria UK and Wiedenmann UK, said:
"Both have a new-style control pad, so from a H&S perspective, the operator can take a safe position up to 100 metres away. Working remotely means even the minimal emissions of noise, vibration and fumes completely by-pass the operator. The control pad comes with a tilt sensor which switches the machine off in an emergency or shuts out if the operator falls."
The premium, with its working width of 80 cm, brings access to even steeper slopes and a higher area performance of up to 3,000 m² per hour. It has optional uniquely shaped mulching blades as well as optional cleated crawler tracks for working on wet or loose ground.
"The 9500s are very neat, easily transportable and mow wild growth in their stride, taming visible areas which would be previously unreachable. They work equally well on the flat and wherever they go, leave an even finish. Brushless drive motors mean they are maintenance free; the net result is a more precise fluent feel. The benefits of a brushless generator and a self-tensioning blade drive belt with no grease points just makes it better and better," said Andy.
We at Fairways GM are the exclusive Agria UK dealer for Scotland, if you would like to see this new model for yourself or would like to find out more please reach out to us on 0800 028 1700 or at sales@fairwarsgm.com.