Long service all round for Peebles GC as they celebrate arrival of ISEKI TG6507 & Gambetti sprayer
Wednesday, 03 November 2021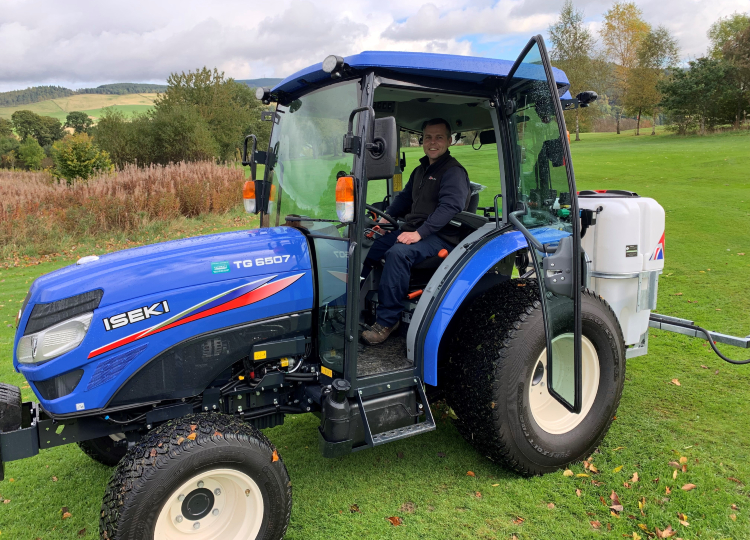 In February 2022, Head Greenkeeper at Peebles GC, Steve Borthwick, celebrates 25 years at the Scottish Borders club. Having started as an apprentice in 1997, he has worked his way up, taking charge in 2013 and now leading a small team of three.
Peebles is a particularly picturesque parkland course designed by Harry Colt and features a modern clubhouse, academy and driving range. Membership climbed to over 500 post lockdown and continues to grow. A busy summer saw a sharp rise in visiting parties, many pledging to return soon after an excellent all-round experience. Indeed, long service and continuity is a recurring theme across the vibrant club.
Several maintenance machines in the Peebles' greenkeeping fleet still work regularly on the course, even after two decades, testimony to regular care and attention. Steve has recently upgraded their trusty tractor and sprayer from local dealer, Fairways GM at Kinross, with purchases of an ISEKI TG6507 & a Gambetti 300 litre sprayer.
"I'm a great believer in looking after machines well. The tractor we've just part exchanged gave us 20 good years; our last sprayer, also a Gambetti, has done the same. However, the time was right for an upgrade. Our machinery replacement programme highlighted the need for a larger tractor, around 50 hp, so we could use the current one for the trailer and the new one potentially for our Wiedenmann Terra Spike and other implements. It just gives far more scope to co-ordinate tasks," said Steve Borthwick.
"We just love the ISEKI's credentials and features. It is superb; especially the headland management system, a 'stop/ start' function which lets you stop the PTO when the link arms raise when you attach a machine. It kicks in and makes it so easy."
"It has also got the vital Stage V transition engine and is very well specified and comfortable. The gearing system is good; the IQ dual clutch gearbox works on the principle of a direct shift gearbox, so the control of a manual with the convenience of an automatic. There are eight main gears and three ranges, plenty there for us when you want to select a speed. It is compact, gentle enough for the greens, but powerful enough for aeration equipment or to be able to cut our semi rough. The 2-year warranty and the back-up service from Fairways just made it a complete package."
"The Gambetti sprayer is tractor mounted, has a 300-litre tank and was specified with electrical controls so it is operational from the cab. You can have the back window closed, the air conditioning on and you know you are always safe. Our previous sprayer lasted so well; we didn't hesitate to choose another Gambetti."
"We'll be starting a winter programme very soon. Moving some bunkers and doing drainage work as well. We've got a lot to get through but are all the better for strengthening our available kit," finished Steve Borthwick.
Fairways GM's Regional Manager, Rob Hogarth, was on hand throughout the buying process, and genuinely delighted to be back at Peebles, the golf club where he himself started his career.
"I was here from 1985-1993; it all began to come back to me," laughed Rob. "But I'd been gone a while before Stevie started, so we never overlapped. However, I loved when Stevie showed me around and can absolutely appreciate how the course has evolved and all the detail. It's such a welcoming place to return to."