Crail Golfing Society keeps gorse on point with long reach flail mower
Thursday, 28 July 2022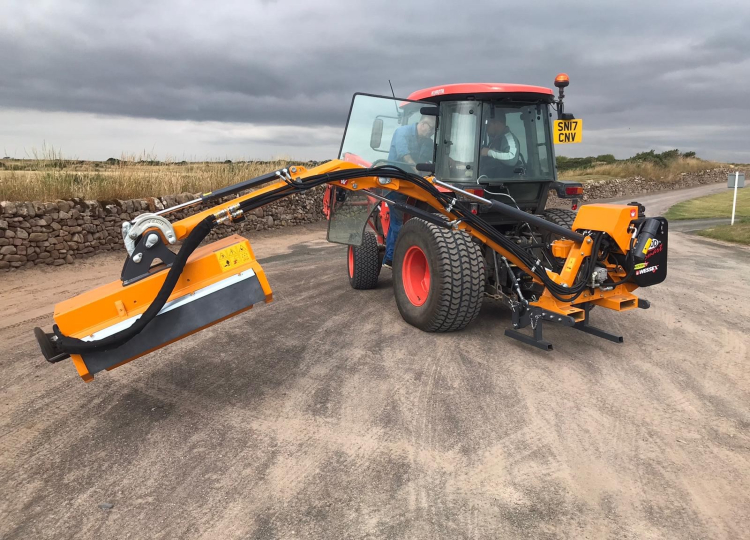 When you are the seventh oldest golf club, future proofing is always on your agenda.
Crail Golfing Society dates to 1786. Its two 18-hole courses, the Balcomie Links and the Craighead Links, have a network of roadways and access paths that in select spots have an abundance of gorse.
Golf Course Manager, Bob Meikle, has bought a Wessex International T380-DE Reach Hedge Cutter Flail Mower from dealer, Fairways GM at Kinross, in a bid to tame several impenetrable thickets of the distinctive yellow flowering evergreen.
"Fortunately, gorse isn't everywhere. Out of play areas need to be managed and presented. A few places were increasingly time consuming for the team to trim using hand tools and hover mowers."
"Health & Safety is such a big consideration. With the tractor and long armed mower, we can tackle dense areas more quickly with less risk. When the flail arm is fully extended, we can reach further into places previously considered a 'no-go', so it's a more effective tidy up."
"We've only been out a few times; it's a new learning experience. Setting it upon the tractor and taking it off is a five-minute job, which is good. The joystick on the left requires some getting used to as I'm right-handed but it's coming. We've tested it on verges on the road approaching the course and that's worked well. There's more verge and banking work to be done. Like anything, the more you use something the more competent you get, and we've already come up with a selection of locations and projects we might try soon."
"Overall, I thought it would be used 1-2 hours per week, but I can see added hours. It means greenkeeping skills can be better deployed elsewhere and off course things are neater and tidier."
Mike Lindsay, Area Sales Manager for Fairways GM said: "Typically this Wessex long reach is used in ground care and agricultural situations. The arm extends to 3.84 m, fabricated from a heavy steel tube. The hydraulic oil tank significantly keeps the weight down. The flail's cutting head is one metre wide and can take up a floating position and brings all the benefits of a quality Wessex cut."