Wiedenmann Terra Float Air is key to Nairn GC's poa reduction
Wednesday, 09 November 2022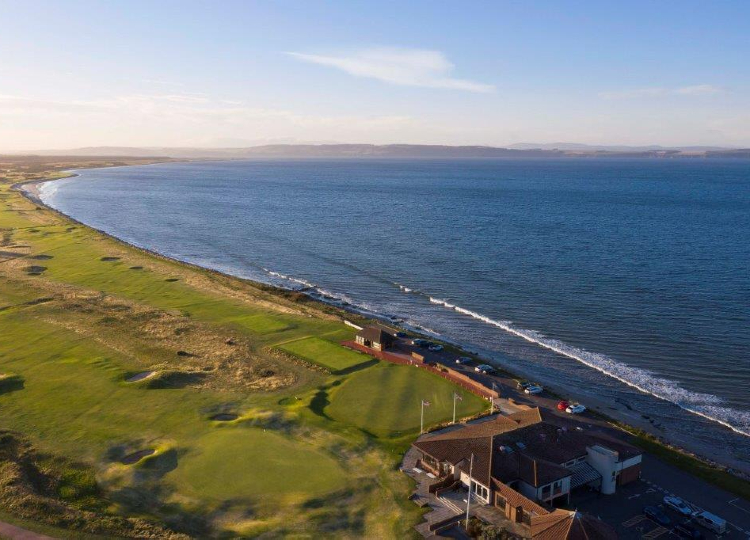 Nairn Golf Club, in the Scottish Highlands, is a majestic links course that nestles on the shores of the Moray Firth. Nairn was venue to the 2021 Amateur Championship, their second staging of the prestigious event. The club has a rich history, having previously hosted the Walker Cup in 1999 & the Curtis Cup in 2012, producing home victories in both events.
Richie Ewan, in his 37th year at the club, the last ten as Course Manager, has a team of 13 who look after both the Championship Course and the 9-hole Cameron Course.
A long-standing Wiedenmann UK customer, Richie is generous with his praise for an exceptional machine which has made an outstanding contribution to one of his most important projects.
"We're very happy with all our Wiedenmann equipment; a Terra Spike GXi 8 HD, the Super 500, the Terra Rake, but undoubtedly for us, the highlight is the Terra Float Air, now completing its fifth season," he said.
"A decade ago, we made a conscious decision to improve the greens' profile and composition of our grasses. We were sitting at 60% poa dominant, with the remaining 40% a mixture of bent and fescue."
"For the first five years our programme was adding 140 tonnes of sand through sustained light dressings and when carrying out hollow coring and Graden work. The team worked extremely hard to reduce organic matter to the target level through this period, creating the ideal conditions for what was to follow.
"Then in season 2017-18, Mike James from Wiedenmann UK brought the newly available Terra Float Air seeder for demo. At that stage, our process was still sanding the profile and concentrating on bent seed, but we were nearing the next phase of our plan, to significantly step-up overseeding."
"As soon as Mike demonstrated the Air, with its speed, precision and quality of finish," continued Richie, "I knew it was head and shoulders above anything I'd seen for bent seeding. It was absolutely the impetus to accelerate our programme."
"The Air's arrival coincided with an approach to the club's Committee to set up a monthly Maintenance Monday, which they readily agreed. For one Monday in each of the months of May, June, July, August and September, we get the course to ourselves from 05.30 am to 09.00 am, which gives us the head start needed on the greens with the Air."
"Greens are verti-cut, dressed with a light top dressing, seeded, then brushed and rolled with the Air, all without disturbance to golf following on. We manage to stay ahead of play and almost always complete 18 greens plus the putting green within a day."
"The Air, combined with the monthly maintenance window, enabled us to go from two to three overseedings a year up to as many as five a year, literally doubling our bent programme."
"Crucially though, the doubling happened while employing far fewer resources. The Air only needs one crew member. Previously we needed three. We have rapidly accelerated overseeding while freeing up team members to attend to other tasks within the process."
"In terms of the bigger picture, it's been so positive. Easily, we are much more efficient around the golf course. Our results are massively improved. Overseeding is faster and simplified while we enjoy the rewards of extra work conducted elsewhere."
"The seed on the greens throughout has been Barenbrug's All Bent. We've pretty much sustained the same quantities, so 5 gm², with no reason to amend."
"In the first three years with the Wiedenmann, we obviously noticed a considerable increase in the bent take on our greens. We also became aware of a handful of localised stubborn areas that were extremely poa dominant. We put this down to their location and the fact they received constant wear, potentially not allowing the bent seed to take."
"To combat this, these past two years, each time we overseeded the greens, we also took a little time with the Air to target those tricky areas with two or three additional passes, as we felt those areas needed to play catch up."
"The Barenbrug product has been highly successful to the point this year we are confident, through our agronomy report, that we have 70% bent on the greens, which is a massive turnaround from the initial starting point."
"It has always been the plan in recent years to get the poa on the back foot… Sustaining 140 tonnes of sand into the profile per year; we've consistently increased bent within the composition... Now we've arrived at a significant percentage, and, with these foundations, we are ready to move into the next phase of our plan. where we start to increase overseeding with fescue."
"Back in 2012, we were always confident we could do it. What the Air has allowed is a significant acceleration of that process. Most importantly, it's been carried out under the noses of the golfers with NO disturbance whatsoever."
Bear in mind, we had 39,000 rounds on our golf course last year. We are a high-playing members' club and we have a healthy level of visitor play. For the team to turn the sward composition around through management of our sands, through dressing and overseeding, with fully booked tee times, without any, or at least minimal disturbance, on play, I think is a major achievement."
"We've sought to improve sustainability. Our putting surfaces have always been good, but we've known where we needed to get to… Because of work to the profiles and surface, for the amount of golf and the ever-changing climate, we have become less reliant on fertilisers and irrigation. The profile is a much heathier and resilient prospect all together."
"Happily, with so much bent in the profile, we are now in the position where we can start to accelerate overseeding with fescue."
"Wiedemann's new conical roller, especially as it is fescue specific, is on our shopping list. We hope to have it in place for our first fescue overseeding next season…"
"We've still got a fair bit to do in terms of targeting our fescue overseeding and to further reduce the poa percentage. Going forward, we will now gradually look to increase our fescue seeding and as we do, we will then naturally reduce the bent applications whilst hopefully sustaining the same level of overseeding annually."
"Whatever we do on the Championship course, we repeat on the Cameron. We try and keep all greens and playing surfaces in line. Once we are out with the fescue conical roller on greens, it's highly likely we will use it on other areas. We are currently using fescue elsewhere so that would open up using the Air even more."
Mike James, Wiedenmann UK Sales Manager, said:
"It's been an absolute education going down this road with Richie and his team. Richie's machine was one of the first Wiedenmann Terra Float Airs delivered anywhere in the world. I've been privileged to have a ringside seat, seeing his knowledge and understanding in action, coaxing the Air to do exactly what he needs. It's been a masterclass in sustainability and I'm so ready for the fescue rollers, their results and for them to deliver what he needs. Roll on 2023!"