Carluke GC receives one of Scotland's first Jacobsen AR530 rotary mowers
Wednesday, 25 January 2023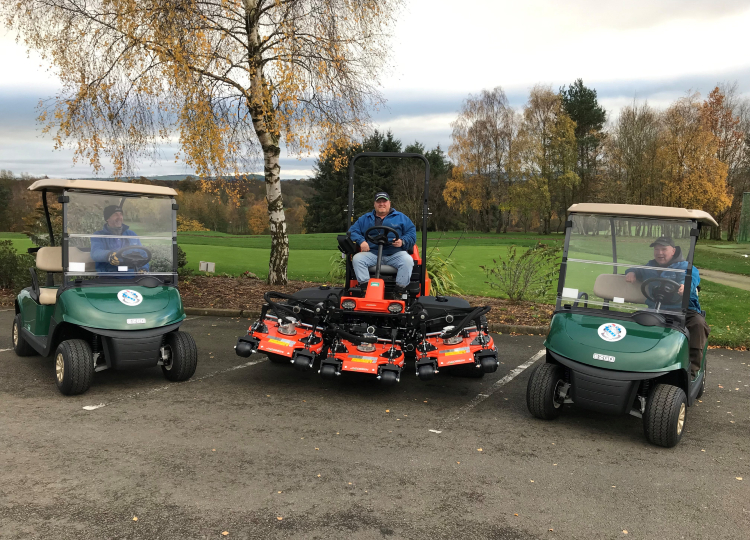 Longstanding Fairways GM customer, Carluke Golf Club took delivery of a Jacobsen AR530 rough mower and two E-Z-GO buggies in November. 
The all new AR530 replaces Carluke's ten-year-old Jacobsen 4WD AR522 rough mower.
Head Greenkeeper, Andy Colquhoun, right, from the Lanarkshire club said: "The vast majority of our kit is Jacobsen; I like the product. The hours on our 522 are crazy. Even though we spray with a growth regulator, we become a grass factory in June, July and August."
"Easily we have it out three and half to four days a week. It's reliable and has done a very good job. This 530 is the successor to the 522. When we needed to upgrade, we wanted to go with the brand we know."
"We have two Eclipses and a GP400 so have a fair idea what we'll be getting quality and performance wise. However, we haven't tried it much beyond a couple of very short runs."
"Getting out will be completely dependent on the weather. Obviously the rough is the wettest part on the course, so will be the last part to dry out, but in a few weeks there will be parts we can try."
A traditional style parkland course, Carluke has a full time team of four including Andy.
The AR530 is a contour rotary mower with five fully floating decks, so can mow hilly terrain with sharp undulations in its stride, reducing the chance of scalping. Exclusively designed downdraft blades keep the clippings suspended longer than usual so grass clippings are exceptionally mulched. The three-tier construction of the discharge opening distributes clippings evenly with the net result that the after-cut appearance is now superior.
"The new buggies are replacements for older vehicles that served their time well. We've got two, and two more to come, as we usually run with four," concluded Andy
Robert Marshall, from Fairways GM at Inchinnan was on hand to advise, deliver and install the machines.