Fairways Sportsgrounds involved at UCI Cycling World Championships
Wednesday, 07 June 2023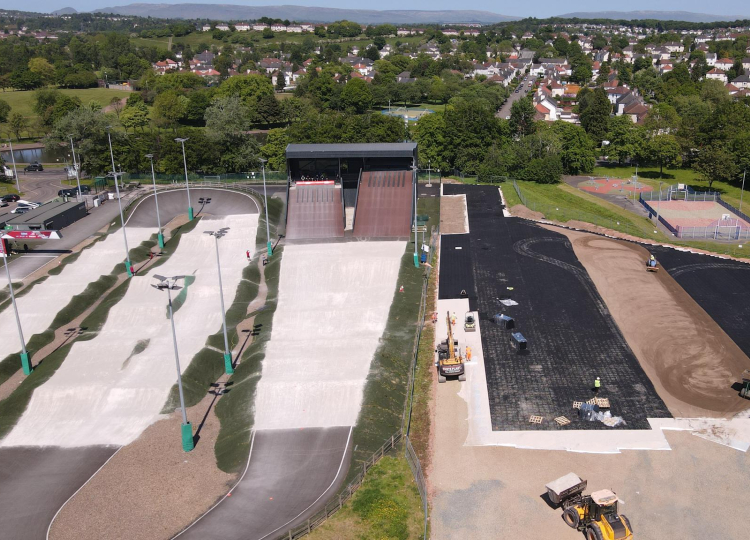 Scottish contractor, Fairways Sportsgrounds, is midway through a major project for the UCI Cycling World Championships, Knightswood, which runs from August 3 -12, 2023.
Contracts Director, Dave Gibson, said:
"Specifically, we're working on the grass re-enforcement that surrounds the BMX Track. We are inserting a geo-grid system that will make it easier to accommodate the event infrastructure, things like temporary viewing stands, seating, car parking and pedestrian traffic."
"There's a tight window to get everything completed but we're used to working with the geo-grids, having completed a similar project at Bellahouston Park, also in Glasgow. They bring stability and uniformity, essential when an exceptionally large attendance is predicted."
Fairways Sportsgrounds have been operating their ISEKI compact tractor paired with its Wiedenmann Combi Clean sweeper to help even and maintain accurate levelling of the rootzone infill, after laying the geo-grids.
"That Combi Clean sweeper brush is truly indispensable… it seems to come with us to every site and, without fail, has a purpose. When we bought it from dealer Fairways GM, our sister company, the intention was to use it to sweep and regulate the infill on our synthetic projects. We still use it for that but have found numerous other roles for it on our construction sites."