Jacobsen TR320 represents a first for Durness GC
Friday, 19 June 2020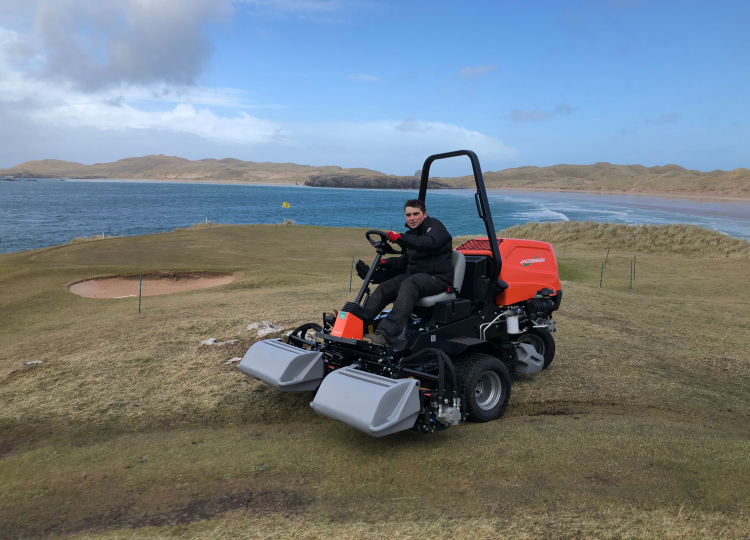 The most north-westerly golf course on mainland Britain has chosen a Jacobsen TR320 as its first ever hydraulic fairway mower.
Durness Golf Club, near Cape Wrath, Sutherland, was built in 1988 by three local enthusiasts as a 9-hole course. Cleverly, their design included nine additional tees, creating a different set up for a unique back nine, giving the feel of a traditional 18-hole course.
Head greenkeeper, Alistair Morrison, is a one person team at the remote cliff top links course. In 2018 he was the BIGGA Young Greenkeeper of the Year winner recognised for dedication and commitment, both to the development of the course, and his own skills.
In early March, after making best use of trailed gang mowers, Alastair took delivery of the TR320 light-weight cylinder mower from John Morton, an Area Sales Manager at Fairways GM. The TR platform of trim mowers was used extensively at the 2018 Ryder Cup at Le Golf National in Paris. The TR320 places as little stress on the turf as possible and brings a wide range of cutting options, while always delivering a first-rate finish. It has the narrowest transport width (1.64m) in its class and an impressive cutting width of up to 2.13m.
"Being compact and lightweight it really suits us. Some clubs would possibly want something a little bigger but we need nimbleness to get in and around areas behind greens or on pathways. With just three wheels it's so much more manoeuvrable and you can make a better job. With the old gang mowers you couldn't nip into the rough and let someone past. We were strictly mowing first or last thing. But now it's all change. It's night and day. There's so much flexibility; flexibility with the weather, with play and with saving time. For example, heavy dew or an early fog put paid to going out in the past. Now when conditions improve there's scope to cut three or four fairways later the same day," said Alistair Morrison.
Located in a Scottish Natural Heritage SSSI and Special Area of Conservation site, the Sutherland club is always considering how to best conserve and harness its natural resources. "With the Jacobsen there's no scalping, it's much kinder than what we had before and takes everything in its stride. Our terrain is pretty dramatic, so full of undulations.  It's stunning but even our flatter fairways I wouldn't call flat. Width wise we don't have huge fairways but with two tees and our paths we still can get a bit congested and it gives me the option to jump about."
John Morton, from Fairways GM, who represent Ransomes Jacobsen exclusively in Scotland said:
"Alistair has achieved so much in five years at Durness. The TR320 can turn on a sixpence and that's the way forward. His is a stunning backdrop; as challenging as it is spectacular. He needs a machine that is narrow, light, quick and sure-footed that delivers excellent health and safety whilst being easy to maintain.