Nod to history with the future-proofed Ransomes HR380
Wednesday, 31 March 2021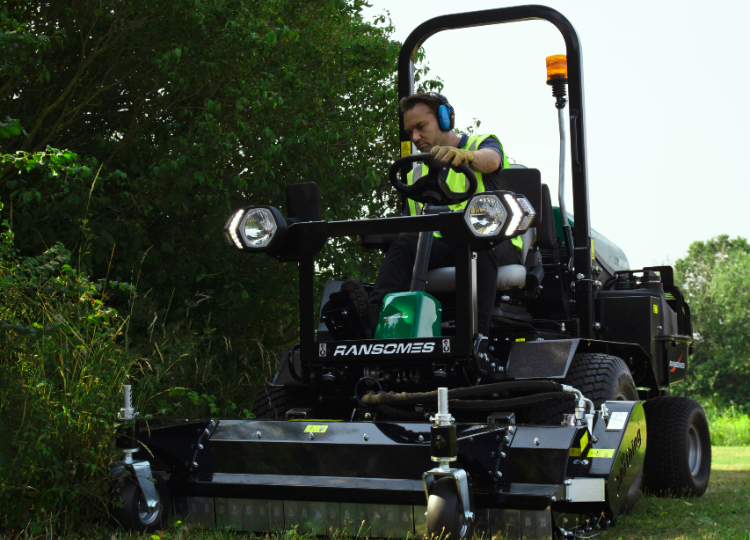 The Ransomes HR380 out front rotary or flail mower has the right credentials for today. Its low maintenance features, with fewer moving parts and significantly fewer lubrication points, ensure ease of use and reduced downtime. Priority has been given to making cutting units effortless to change, while simple on-board diagnostics bring added efficiency to operation.
Rob Hayward, Ransomes' Product Trainer based at the Ransomes Centre of Excellence in Ipswich said:
"One of the biggest things to hit our industry in the last few years was the move to Stage V for EU engine regulations. We had to look at some of our machines and see how we could bring them up to that new level of air cleanliness. We've come up with the HR380 by taking some history of the HR300 and the HR330 before it, improved some features and put in that new engine."
"The 37.5 HP diesel stage V engine gives more horsepower, is a lot cleaner, and is smoother running, so you really notice a better quality engine inside. Combine this with the operator comfort, the efficiency, the choice of decks, the choice of cutting widths, and it makes a really good all-round machine."
The HR380 is often used in a municipal environment but it also benefits contractors and estates managers. It features a class leading operator station with suspended seat and fingertip controls, so you can mow long grass comfortably at speeds of up to 1.98 ha/hr.
"Getting on and off the machine is very easy," continued Rob Hayward. "The steering wheel moves out of the way, you climb up, bring the steering wheel down and secure yourself nicely. It's a superb area to be in all day long with best-in-class ergonomics. It's not just the steering wheel that adjusts, there is an adjustable pedal for the comfort of the operator's foot, allowing them to use the parallel cross flow traction system to its full potential. Having the 37.5 HP Kubota engine behind that transmission gives it superb hill-climbing and manoeuvrability."
Controls for standard mowing, lift and lower and traction control are positioned on an adjustable armrest. The full colour dashboard display remains clear in all conditions, the diagnostic display confirming everything is working optimally. LED and halogen lights as well as indicators are instantly visible from all angles while foldable wing mirrors, on a moveable bracket, allow you to get up close to obstacles, like trees.
When it comes to the business of mowing the HR380 is equally impressive.
"We have a choice of decks," explained Rob Hayward. "Either 1.5 m or 1.8 m rotary rear discharge decks which are maintenance free by design. With our rotary decks, we've done away with all the belts and pulleys, it's all hydraulic drive, so you don't have the rotating PTO shaft which adds noise, vibration and maintenance. This is a very low maintenance deck with full power directed to each blade. The deck itself can be lifted to a good transport height and can be flicked up to a near 90° tilt, so if you want to clean under or change blades, you can do so in a safe manner."
The HR380 offers a range of heights of cut which are easily changed. The machine utilises rear discharge decks which keeps debris down low, under the machine. It cuts and disperses the grass very evenly. For longer grass an optional Muthing flail is available.
To enquire about the HR380 you can contact the Fairways GM team on 0800 028 1700 or at sales@fairwaysgm.com.