St Mirren FC upgrades to a Jacobsen TR320 at the SMiSA Stadium
Wednesday, 15 September 2021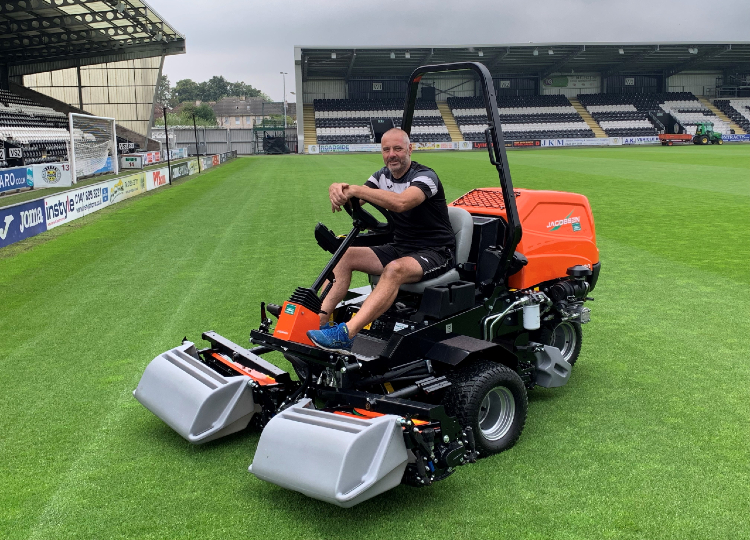 St Mirren FC Head Groundsman, Tommy Docherty, happily admits to being a long-standing Jacobsen fan, welcoming a TR 320 articulated sports turf reel mower from Scottish dealer, Fairways GM.
"I've had a long history of using Jake; successive machines are all doing really well, so the TR 320 just updates our fleet. The new mower went straight to the SMiSA stadium while our previous TR3, which we got three years ago, has moved to the training ground, and our Tri-King, which we've owned for about 20 years, has earned a bit of a rest," he said.
"I'm delighted with the new machine. The quality of cut is excellent; it cuts the whole stadium perfectly in less than an hour, and it will be in use all year round. On the few occasions across the season when we don't require to cut, we'll still stripe and roll the turf, so its work won't stop." 
"It's a big bonus for us that the Fairways GM service depot is at Inchinnan. The machines are so reliable, but if you do need support or help, we get it instantly from Stuart Cameron and the service team and that's another element that factored into the purchase decision," concluded Tommy Docherty.
Off the pitch, St Mirren's initiative in being a supporter-centred organisation has caught the public's attention and admiration. In recognition of their fans' efforts to bring financial stability to the club, St Mirren Park officially became The SMISA Stadium in November 2020, utilising the acronym for the St Mirren Independent Supporters Association.
The Scottish Premiership side and SMISA took another major step forward in July this year to become the proud majority owners of St Mirren FC, taking its ownership to 51% and placing it further at the heart of the local community.