Quality & efficiency key to Castle Park GC's double rough mowing purchase
Wednesday, 22 June 2022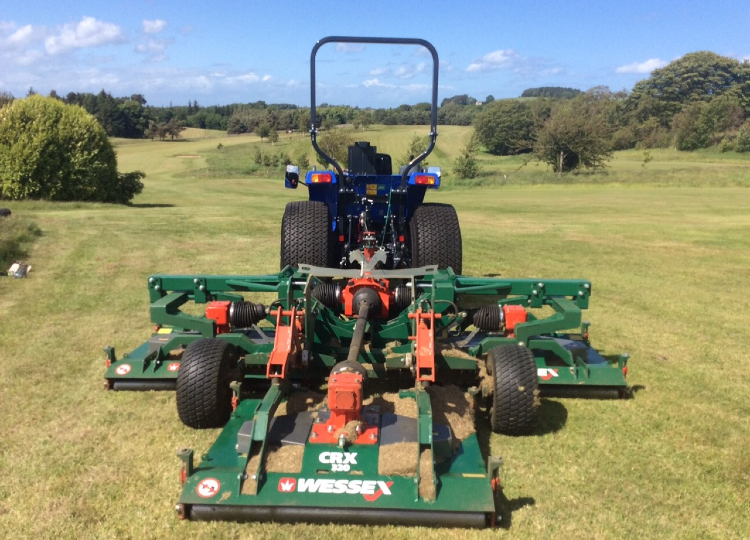 Craig McLachlan, co-owner of Castle Park Golf Club at Gifford, believes a finishing deck and tractor combination is an emerging way to maximise efficiency when cutting roughs at a golf course.
Castle Park is an 18-hole parkland proprietary golf course with an enviable customer base of young enthusiastic golfers.
The East Lothian site took delivery of a new Wessex CRX320 3.2 m wide triple mowing deck in May and an ISEKI TLE 4550 compact tractor in June. Bob Marshall, Area Sales Manager at Fairways GM in Kinross, co-ordinated the equipment arrivals, along with Wessex International's, Steven Brown, and Iseki's Andrew Donnachie.
"I think using a deck and tractor combination happens more in English courses, but I believe increasingly Scottish clubs are taking this route," commented Craig McLachlan.
"It is a bit of a departure from the way we cut previously, with a dedicated rough mower, but already I am impressed. Economically, it is the way forward for us. Budget, longevity, and minimal maintenance are all crucial when we invest in equipment."
"We are using it on our two-inch rough and after three weeks the cutting quality is fantastic, and I am entirely happy to have made the switch."
"Four days out of five they will be out together. Come winter, we will use it on the fairways to lessen the wear and tear on our fairways machine, which will have a further positive effect on running costs and maintenance."
"The deck is attached to our new ISEKI, an entry level compact tractor, but at 55 hp a decent size. We've a few hills and wanted something that was straight forward and hard working."
"Bob Marshall has been key in bringing this together. From sourcing a demo machine, to supplying the equipment, at every turn he has gone out of his way. It is people that make a business," continued Craig.
After seven years at the Gifford club, Craig and his co-owners are pleased with the progress they have been making.
"Young people are the future of golf, and we are a quite different golf course. We can be reactive and put on events at short notice. Having a well-presented course is part of the package we want to keep offering," he said.
"Golfers play with their eyes first. What you see first leaves an impression and so when they stand on a tee, what they see in front of them sets the tone. The course must look right; the pristine cut the roughs are receiving is adding quality already."