Wiedenmann UK introduces the Super 1300 S compact turf and leaf collector
Wednesday, 20 October 2021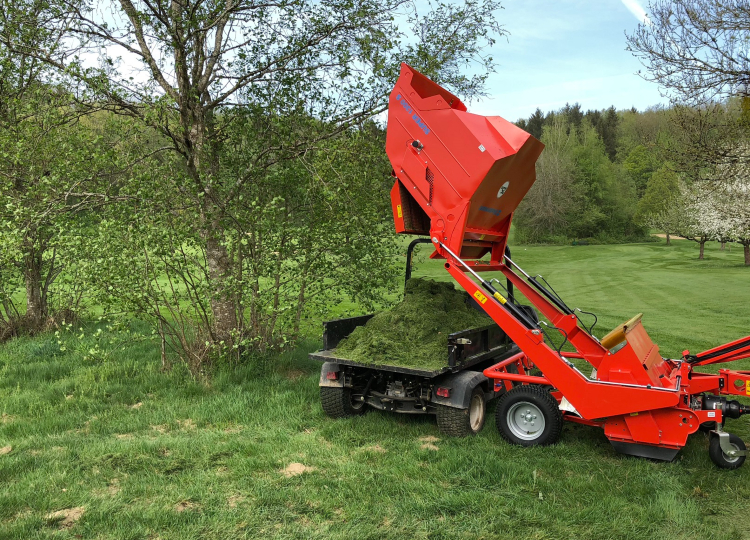 Welcome the Wiedemann Super 1300 S compact turf and leaf sweeper. This new machine is mounted on the lower link arms of the rear three-point hitch of a tractor and so is extremely nimble and manoeuvrable, particularly working around trees and other obstacles. Released already in the US, it is proving especially popular for tidying sports fields, public green spaces, and residential areas.
In the same mould as its bigger cousins, the Super 500 and 600, it prioritises Health & Safety using a parallel system. Its pick-up head is mounted in parallel so that the distance between ground and sweeping brush remains constant, regardless of the fill level, and thus adapts to undulating terrain. When you lift the tank to empty, it pivots around on its axis, therefore completely discharging. The high dump feature allows it to tip into trailers and bins up to 1.7 m in height.
Equipped with double sweeping rotors, each sweeping rotor has four sweeping rails which help fill the 1.6 m³ collection container. Semi-trailed it fits to tractors around 30 hp and has a working width of 1.3 m, making it sufficiently narrow to get through gates and entrance ways. Optional equipment includes a rear collision guard with integrated lighting kit and a fill indicator.
Autumn is fast approaching and there is no better time to book a demonstration so that you can see for yourself the abilities of the super 1300 S.
Fairways GM is the Wiedenmann dealer for Scotland, if you would like to find out more about the super 1300 S please feel free to get in touch on 0800 028 1700 or at sales@fairwaysgm.com.