All year-round aeration for Duddingston GC with Wiedenmann Terra Spike GXi8 HD
Wednesday, 13 October 2021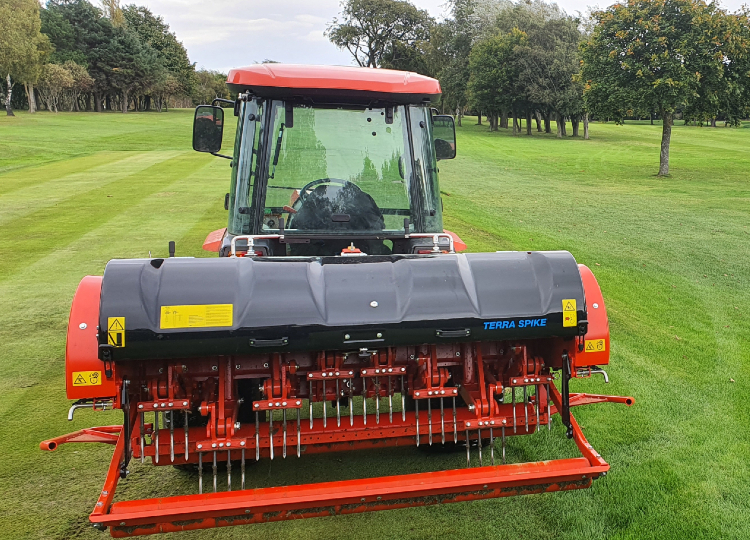 Head Greenkeeper, John Guthrie at Edinburgh's Duddingston Golf Club favours the little and often approach to aeration. Maintaining healthy surfaces is key for the parkland club which nestles below Edinburgh's iconic Arthur's Seat and has a history dating over 125 years.
The purchase of a Wiedenmann Terra Spike GXi8 HD deep aerator in May, from Scottish dealer, Fairways GM at Kinross, was essential to his strategy, and five months' hence, he continues to be really pleased.
"It's making a big difference; I knew the GXi8 would be good, but I didn't factor quite as quick or as neat. Easily all 18 greens can be done before 1.00 pm, so about a hectare's worth in total. In the past aeration tied up three people. We would have had someone following on with a roller and another person tidying up behind. The Wiedenmann is so clean, you don't always have to roll at the back if you set it up properly. Two of the team can be free to do other tasks; resource wise, that is a significant benefit."
"Since May, we've taken a discrete approach, tining down on the greens to 100- 150 mm and tees to 200 mm, all with 12 mm tines, experimenting with heave at 5° occasionally. From November, we switch to 20 mm tines and might go 250 mm on the greens if conditions allow, possibly again with a little amount of heave. The fairways, too, will get the full depth and the bigger tine." 
"A good machine deserves its praise. H&S on the machine is first rate. It really is smooth, and the operator doesn't leave the cab feeling they've had a full body work out. Also, smoothness means the Terra Spike is surprisingly quiet, not too noisy for members playing nearby, but mostly we can be done before they get anywhere close."
"Hopefully, we're out all 12 months a year, weather permitting, and target a few choice areas with extra runs when there's time available."
Membership at Duddingston GC has increased over lock down but tee times have remained constant for John and his team of five. "There's nothing for it but to keep doing your best and the whole team has done really well, even now new members are still joining."
Bob Marshall, Area Sales Manager at Fairways GM said:
"The GXi8 was absolutely the right fit for John and his team. It paired well with their existing tractor and for his site it's got access-all-areas status."