Liberton GC gives green light to Kawasaki Mule Pro-DX
Wednesday, 24 August 2022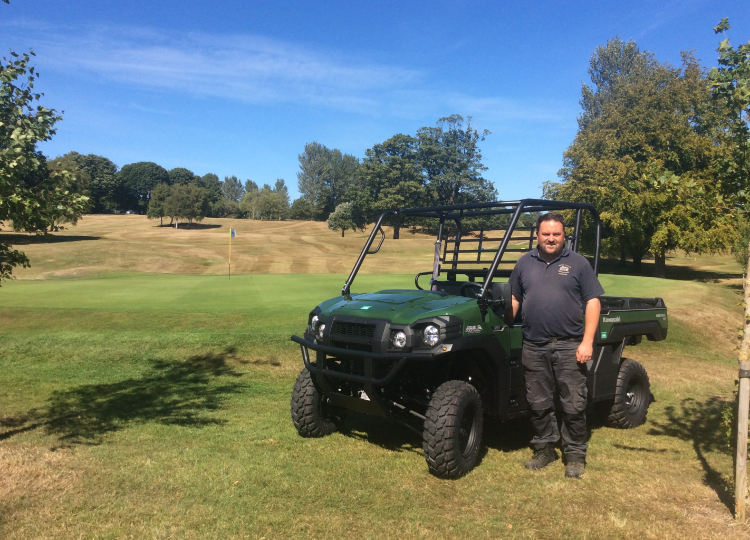 Joe Loffelman, Course Manager at Liberton Golf Club, Edinburgh, is the latest recruit to the Kawasaki Mule fan club.
Earlier this month, he purchased the 2022 Pro-DX version from Bob Marshall at dealer Fairways GM's Kinross depot.
"I saw the Mule at a demo in Linlithgow, then we had one brought here for the team to try," said Joe Loffelman. "Pretty soon we recognised it was everything we needed."
The Mule Pro-DX has a reputation for being a sturdy utility vehicle which makes light of heavy work.
"We sought a reliable runabout that could get us around the course. What I liked most was that it was fairly priced, was very robust and has lots of room. Other machines were smaller in the back, but the Mule has lots of space. You can use it every day for turfing jobs, carrying supplies, moving hand tools…"
"In winter months, when the course is wetter, you don't want too many machines on the course. It's great that it can take three people. Running a single machine and making fewer trips saves on time, saves on fuel and is kinder to the turf."
Joe decided against optional turf tyres postponing a decision until next season.  
"I wasn't too sure whether we actually needed the specialist tyres so we'll go through one winter and see how we do...  We are not an overly wet course, and if we do become that wet, we'd be keeping a lot of equipment in the shed and doing much of the work on foot – bunkers, dew wiping, that sort of stuff. But, if I'm honest, and if we avoid a few certain areas, I don't think the Mule will be an issue. It's also powerful enough to access anywhere – even when full it climbs easily, that will also help protect turf."
"Next step is to get it road legal so we will be able to use it to get fuel to other machines," continued Joe.
Just four miles from the centre to the southeast of Edinburgh, Liberton GC is a busy parkland site with a hectic calendar and an active friendly membership.
"Traditionally we operate with four greenkeepers and an apprentice but in the last few weeks our apprentice qualified and the club confirmed his post, so the good news is we are now a team of five time-served greenkeepers."