Jacobsen double from Fairways GM helps Hamilton Park race ahead
Wednesday, 17 March 2021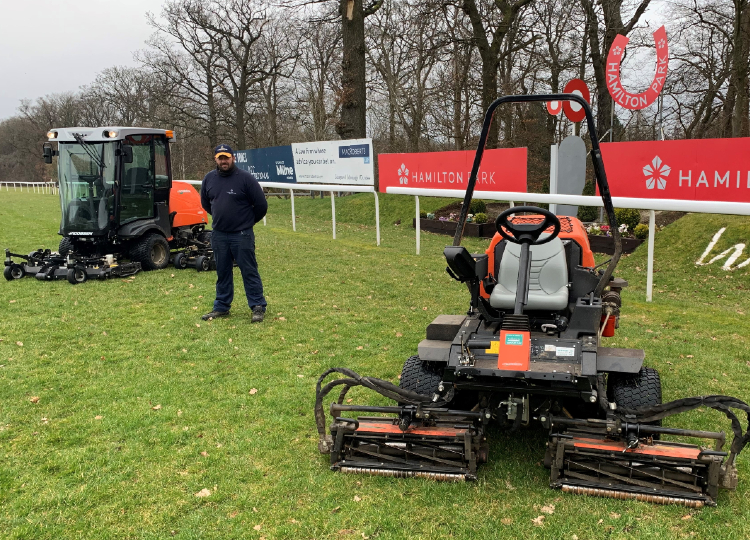 Track Manager, Darren Bissett, says Hamilton Park's turf will be more than ready for the start of their flat racing season scheduled to begin in May. 
"Course maintenance wise we are on schedule with the first cut of both the track and the lawns due within the next week, assuming conditions prevail," said Darren.
Darren joined the team at Hamilton Park from Ayr Racecourse exactly 12 months ago, and his first year in the job could hardly have been more unexpected.
In June 2020, a delayed and shortened fixture list got underway with eleven race meetings successfully staged behind closed doors by the time the season concluded at the end of September.
One huge positive for 2020 was that local grounds care dealer, Fairways GM, delivered two new Jacobsen mowers - the HR500 Rotary Mower for the track and the TR320 for Hamilton Park's extensive fine turf areas.
"The machines were ordered by my predecessor after several very positive recommendations. They've worked fantastically and I'm genuinely very impressed at how effective they are. The HR500 has great width at 3.5 metres which allows us to cut the whole track with just five circuits in around 2.5 hours. It makes quick work and leaves a very clean cut. The room that you get in the cab is exceptional; really spacious, so it's great for the operator. Also, once you are finished, it's incredibly easy to maintain."
"In March, we will probably only cut the track once a week until it gets a bit warmer and soil temperatures rise, however come May we'll have increased that to at least twice a week. Over the summer months cutting increases to three or four times a week as the fertilisation programme takes effect."
"During the racing season we like to cut the day before a fixture, and then again 48 hours afterwards. Height of the cut is set at 6cm for the next month or so and when racing starts, we'll allow it to grow a bit longer before cutting it to around 9cm. Changing the height of cut on the decks takes around half an hour and it's a case of moving just ten pins, so it's very straightforward."
"Away from the track, our lawns are a great backdrop for weddings and events as well as racedays, and hopefully this summer they will see a lot more visitors. Because it's been a bit milder these past few weeks the lawns are starting to grow. The TR320 delivers an exceptionally fine, effective cut and it is so good at striping the lawns and leaving a professional finish - everything is really level. We cut the track and the lawns on the same day so there will be times when we are cutting lawns four times a week throughout the summer."
"Last year, sadly, we were unable to welcome racegoers and event guests alike and so we're working hard to ensure the grounds will be at their spectacular best for when we can open our gates to the public once more."
Rob Hogarth, Fairways GM's Area Sales Manager, said: "The HR500 can cut all day long. Robust and smooth, it has built in consistency delivered via a feature called Automated Assist Drive, so no matter the conditions the finish remains clean and sharp. The big cab that Darren likes gives the operator a superior view of what's going on out-front; controls are positioned exactly where they are required, so you can also be extremely precise. The TR320 is good in tight spaces and challenging terrain. It's a wizard at stripes so is great at keeping locations pristine and interesting, a nice touch for important wedding photography."
Photo Credit - Master Hogarth.