Fairways GM brings Jacobsen GP400 to Pitlochry GC
Wednesday, 26 May 2021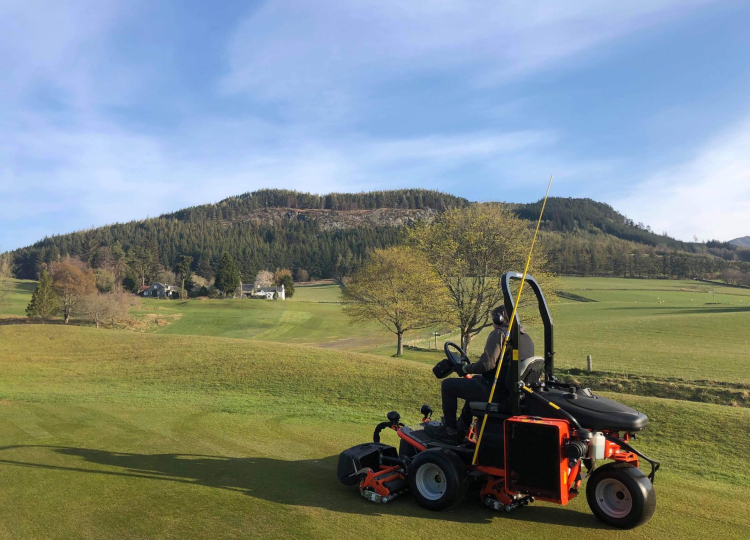 A busy course manager to two golf courses in the central Highlands has raised over £9,000 in his spare time for Scotland's Charity Air Ambulance Service. Almost a year ago, a helicopter rescued Stuart Griffiths after an on-course accident left him trapped for nearly two hours under a machine. Emergency surgery and thirteen nights in hospital followed, with Stuart happily making a full recovery and back to work in October.
Stuart's day job is split across two glorious Perthshire courses, eight miles apart. Pitlochry GC has 18 dramatic and scenic holes plus a tricky six-hole Pitch & Putt course while near neighbour, Blair Atholl GC has nine holes, also with stunning backdrops of the Cairngorms National Park. Both courses are owned by Pitlochry contractors, RW Bell Electrical, which in the last five years has successfully harnessed positive community momentum and a resurgence of visitors from near and far to win some prestigious tourism accolades.
"I joined Blair Atholl in 2010 as head greenkeeper. In 2015, when Stephen Carruthers, owner of Pitlochry, decided to merge the two, he asked me to manage them together, which frankly, took a lot of heat off me, as I was caring for a nine-hole course with a large expenditure," explained Stuart.
"So, I became course manager of both; the first couple of seasons took a little bit of sorting, in respect of taking staff and machinery between two places, but soon we were in a better routine than before. We are very lucky. Blair Atholl had a decent set of machinery prior to Pitlochry taking over, so actually, there is very little machinery swapping, only say, when we are spraying or top dressing." 
"Staff wise, we work it out, essentially, everyone's at both. We're a team of five – full timers Billy Hoggins, Douglas Black, Sean Menzies, and Rob Coughlan, plus our long-standing volunteer mechanic, and cutter of rough, Frank Brennan. Traditionally, there's a big weekly Wednesday competition for visitors at Pitlochry, so on Wednesdays after set up, we all come to Blair Atholl."
To boost their fleet, in April, Stuart purchased a Jacobsen GP400 ride on greens mower, exclusively for Pitlochry's greens. Mike Lindsay, Area Sales Manager, from local dealer, Fairways GM at Kinross, was on hand to provide sales support and demonstration know how.
"It's May, there's snow on the hills and we've been out cutting with it twice," laughed Stuart. "That sort of says it all for the season so far, but we're extremely positive and excited for warmer temperatures. Feedback from the team on the GP400 is very good. The overall cutting experience is great. Technology-wise, it is a big step up from what we've had; it's got great design, is precise and clean and we'll be able to cut the greens so much quicker."
Fairways GM's Mike Lindsay said: "It's such an all-rounder when you're against time and have got greens to prepare. The swing-out centre cutting unit allows easy access for changing height of cut and routine inspection.  For access, there's a neat step behind the front wheel and for visibility, the angle of the curved steering arm gives the best view of the right-hand cutting unit. Also, a steering arm clamp lets your arm take up a really comfy position. It's a machine that makes life easier."