Drumpellier GC delighted new Jacobsen AR530 rotary mower will make instant impact
Wednesday, 08 February 2023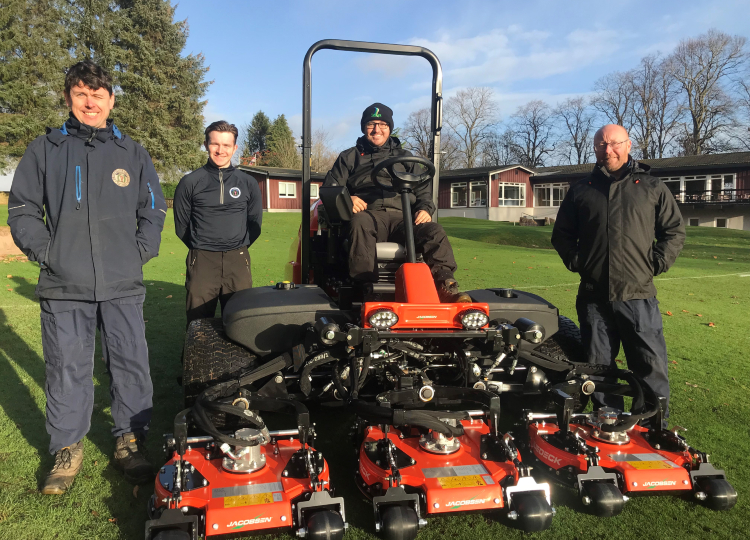 Caption (l-r) Deputy head greenkeeper, Gareth Thomson, George Duigan, Damian Hamilton & Colin Powrie, head greenkeeper.
Drumpellier Golf Club's head greenkeeper, Colin Powrie, had no hesitation in choosing the all-new Jacobsen AR530 rough mower from local dealer Fairways GM at Inchinnan.
Seeking a replacement for his nine-year-old Jacobsen AR522 he said he chose it first and foremost for its "quality of cut."
Colin joined the Coatbridge club in April 2021, from Ladybank Golf Club, Fife, where he served 20 years as Course Manager, and 30 years in total.
"Across my career, I've had experience with many manufacturers' mowers. We use Jacobsen Eclipses here for our greens, and I feel they offer the best quality cut of anything on the market," said Colin.
"I inherited the 522 when I arrived. It's a great machine, this one is flat out 4½ days per week in the summer... Going on the performance of the 522, I was excited for the 530, knowing it would be even better. It's got a new design from the floor up, new chassis, different cutting heads, and its units are slightly wider."
"Aside from a few trial runs it's been in the shed simply because of timing and the weather, but everything's excellent so far. We are looking forward to getting back into full swing when the grass starts to grow. I'm hoping with improved efficiency we'll reduce the 4½ days by a good margin but it's the impact it will have on the quality of cut that I'm really after. Precision is important."
Drumpellier has a team of five full time greenkeeping staff, including Colin, and two apprentices on contracts working towards level 2 SVQ greenkeeping.
"Having apprentices is something I implemented when I arrived," continued Colin. "It benefits the whole team to bring people in to the industry and pass on skills. It's the right thing to do to encourage training and learning."
"Working with Fairways' sales and service teams has been a positive experience. We've a service contract and the response speed and professionalism are impressive. If we have had a breakdown, it's not unusual for them to arrive within the hour. If I want a set of units sharpened and they've been taken away at lunchtime, normally they are returned the next morning. They are good at explaining things and it's all going the right way."
Stuart Cameron, Area Sales Manager from Fairways GM at Inchinnan was on hand to advise, deliver and install the machine.
He said: "Rightly so, focus has been paid to the AR530's cut quality as well as the after-cut appearance with grass clipping dispersal. Colin and his team will also really like the improved traction system, which means it does a fantastic job of climbing and gliding over hilly terrain with acute undulations. The even cut is because it uses the weight transfer system. Drumpellier, though a reasonably flat course, has some steep spots where this will come in useful. Everyone will also like the ergonomics; it's much easier to get on and off as you don't have to climb over the units. All controls are at your fingertips. The sound level of the machine has been lowered to make it extra quiet."