Five stars plus from Cowglen GC
Wednesday, 09 September 2015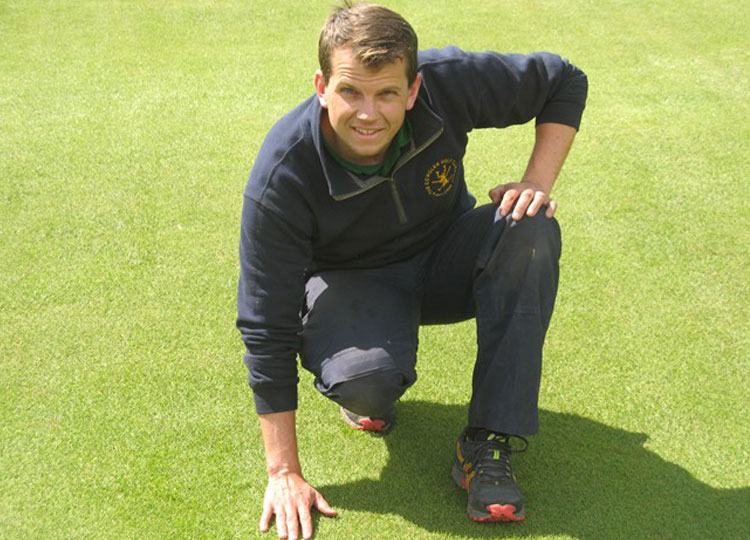 The 2.1m Wiedenmann Terra Rake is being credited with taming Cowglen's vast ridge and furrow contours which lie on a heavy clay soil that stretches  down 3m deep in places. The corrugated lines were made a virtue by architect James Braid in 1923 when he reconstructed the course, founded in 1906, from nine holes to 18.  Recent renovations in the last two years have smoothed out three holes but the scope of undulating terrain means the greenkeeping staff is constantly challenged.
Regular use of the Terra Rake since its purchase in September 2012 has seen such a steady improvement that Course Manager, Michael Slack, says he rates it "5 stars plus" and is very interested to see the new 3.2 m and 4.4 m versions that Wiedenmann will unveil later this season.
"Because of the undulations when I was looking to buy for the fairways I wanted something that would scarify the tops of the mounds but not scalp," said Michael Slack. "The Terra Rake floats right over and doesn't damage, it just pulls out the thatch and continues on. It's worked out as absolutely the best machine - a dedicated scarifier just wouldn't have coped."
Paired with a Kubota L5030, the trailed Terra Rake frequently takes speeds of up to 15-17 kmph in its stride and can cover the fairways and practise area totalling around 10 hectares in a single morning.
"We have a consistent routine of raking, cutting and blowing the fairways or, when the ground is heavier, we rake, blow, cut and then add a final blow at the end just to keep everything tidy for members following.  The aggressive spring tines of the Terra Rake rip out the thatch really thoroughly and it's so productive that the fairways are virtually thatch free and have never been as good," said Michael Slack.
The Cowglen greenkeeping team numbers seven in total and they have found a variety of other duties for their versatile Terra Rake which means it's in use throughout the year.   "At the start of spring when we cut deep rough back we follow through with the Terra Rake to pull out any brown wispy debris that's gathered over the winter.  Also in spring after the first decent dry spell we'll rake out fallen leaves that have evaded us and shift them with the tines before they become embedded.  Whenever we need to top dress we always use it to assist dressing the low points or the drains of the ridge and furrow. It's back out if we need to stand the grass up  and we've used it previously to break down piles of cores levelling them into the ground by repeatedly going backwards and forwards and separating the thatch from the sand and soil. It's a machine that delivers such good value for a relatively small outlay," continued Michael Slack.
Fairways GM is the exclusive supplier in Scotland of Wiedenmann equipment so Area Sales Manager (West), Alan Jack, himself a former greenkeeper, has been able to provide sales support.  "The Terra Rake just quietly gets through a mountain of work and becomes indispensable very quickly without fuss.  Despite being in one of the wettest areas of the UK and having metres of clay beneath the surface, the Cowglen fairways are truly immaculate and get amazing member comments," noted Alan Jack.
Fairways GM also delivered a  Wiedenmann Terra Spike GXi8 HD to the club in Spring 2014 which aerates their greens, tees and approaches regularly. 
Michael Slack said: "We've had it from new and it also does a truly great job. The best thing for me is the symmetrical design, it's always absolutely balanced.  The action is completely smooth and the machine is not only kind to the tractor and the operator, it's also kind to the surface and that's reflected in the result.  We can carry out an intensive summer aeration programme using needle tines with no disruption to play.  The golfers are happy and there is a noticeable improvement to the greens root structure.   If we haven't a competition on and it's relatively quiet we get round all the greens and tees in a day or we'll do them in two mornings. We favour a 50 mm square pattern with our 8 mm tines and we vary working depths down to 250mm.  Twice a year, probably in April and September we'll use 12 mm tines."
Cowglen is just five miles from the centre of the Glasgow and is a very progressive club. Two years ago it was granted Scottish Golf Centre Development status and currently has over 500 members.  Michael Slack has been in charge since May 2008.  Prior to that he was at Gleddoch House GC for a year as deputy course manager, and served seven years at Loch Lomond GC. He is also a committee member for the BIGGA Scotland West section.