University of Aberdeen enjoys health and safety benefits with agria 9600
Tuesday, 14 January 2020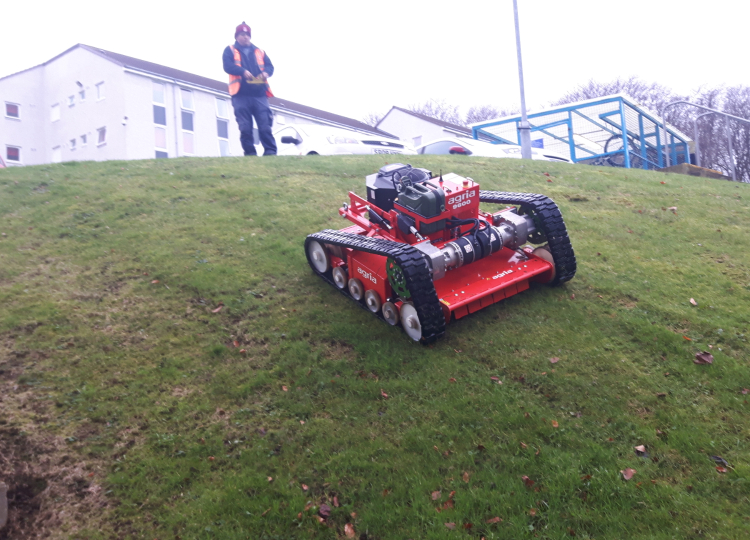 Agria UK's remotely controlled agria 9600 hybrid bank mower makes lots of friends in high places. Recent converts include the 16 members of the University of Aberdeen's grounds' team, all now fully trained and regular users.
Bruce Reid, Grounds Officer in the University's Estates and Facilities Department, said he knew instantly it was a machine that suited their purpose:
"It works well for us because it's not complicated; it is so H&S focused and does a thoroughly good job. Tending steep banking both safely and quickly is imperative and that's why the agria 9600 stood out. On first view at its demo, it looked like a high climbing miniature tank patrolling the grounds. We were an early adopter and purchased one of the first in July."
"We have our fair share of extreme slopes and banked areas. There are three distinct campuses. King's College campus, is over 500 years old, and dominates the section of the city known as Old Aberdeen. It lies approximately two miles north of the city centre. To the west, there is the more recent Foresterhill campus, next door to Aberdeen Royal Infirmary and home to the School of Medicine and Dentistry, as well as the School of Medical Sciences and then to the east is Hillhead campus which is predominantly student halls. Together with research and lecture buildings, all sites have bespoke grounds, sports facilities and green areas. Hillhead in particular, has purpose-built student residences set among landscaped areas which house several thousand students. Typically, it's here where we have many steep slopes, gradients easily in the 30° to 50° range, all at varying heights. We try to cut and mulch these fortnightly during the growing season," continued Bruce Reid.
With its low centre of gravity and rubber caterpillar tracks, the agria 9600 powers safely through heavy duty work on high slopes to 50°. The operator uses a joy stick on a light, hand held LED display control panel to manage six key mower functions. The display shows travel speed, cutting height, hours of operation, the battery charge status, the radio signal strength and an on / off switch.
Range is an impressive 300m at a generous forward speed of 10 km/hr allowing some of the most difficult and awkward-to-reach terrain to be tackled from a healthy distance. Should frequency be disturbed, the remote control changes to a different band frequency automatically.
A Hybrid drive concept means the agria 9600 combines a petrol engine with being electrically driven. This set up is therefore more environmentally friendly than hydraulic systems. The petrol engine powers the mower and generator while the generator produces electricity in Safety Extra Low voltage (48V) for driving. 
In two widths, 112 cm and 80 cm, it cuts and mulches in two directions and is effortless on a variety of applications, including fine turf. 
"The main thing for us is health & safety," continued Bruce Reid. "We don't want operators walking behind mowers on any of our banked areas. It is infinitely safer to have a remote machine perform these tasks. Like everyone else, we have risk assessments for all grounds care activities and right away, a remotely controlled mower minimises risk.
"Ours is the 80 cm wide version. It's a very straight forward machine yet versatile. The whole team took part in a familiarisation and training session given by Agria UK so everyone is now extremely confident. They feel safe because they don't need to remain close to the machine nor do they need to set foot on the bank. It's surprising light machine to transport, it can be popped on a trailer and moved with an ATV which helps save time and transport costs."
Edzard Michalsky, Product manager for Agria said: "The beauty of this machine –and indeed all remote controlled Agria mowing systems - is that there are no hand-arm vibrations to factor. Everyone deserves a healthy working environment and this machine means you can spend a whole shift engaged in cutting and mulching."
Wilson Morrison, Sales Manager from dealer Fairways GM, who distribute Agria UK products in Scotland, said: "Bruce and his team put H&S at the top of their list. The agria 9600 gives them a head start. For example, if for any reason the transmission signal between machine and operator is lost the machine automatically shuts down.  Both the machine and the remote-control offer emergency shut off switches and safety flaps giving protection against thrown objects, this has been tested independently by industry experts. At 420 kgs theirs is a light easily transportable machine. Running time is 15 hours on each charge. Each unit comes with a replacement battery and charger which almost doubles the working time.  Fuel consumption is around 20 litres per 15 hours run time. Developments like these help future proof the industry."