Wiedenmann Terra Rake at Western Gailes GC central to 're-aligning rough to fairways' project
Wednesday, 26 January 2022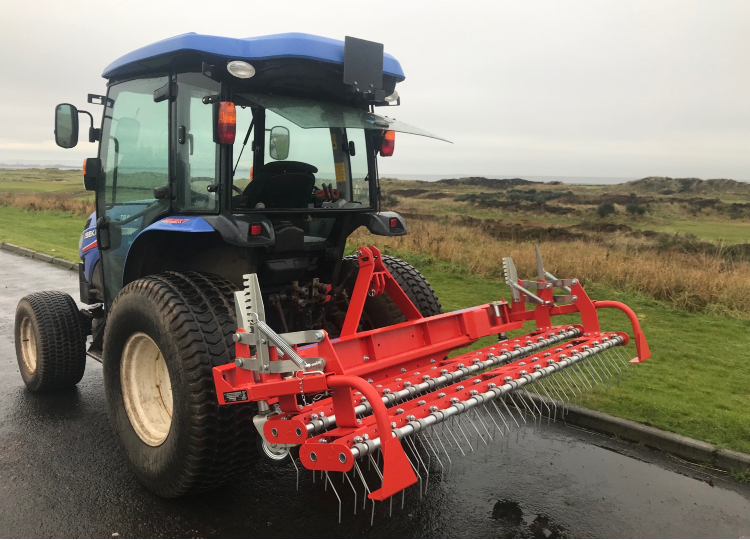 One of Scotland's finest links courses, Western Gailes GC, on the north Ayrshire coast, is three years into a long-term project to restore more of the links effect to the rough on the highly acclaimed site.
Course Manager, Stewart Brown, who took up his role in 2017, has targeted a specific area of the course to improve definition and quality. Already by harnessing the expertise of his seven greens staff, progress is being made.  
"We've undertaken some fairly significant course changes. One key project has been to re-align major areas of rough back into fairways, so swathes of long-term rough are now actively being prepared and groomed to become fairways," said Stewart Brown.
Removing organic matter then, considerably increasing fine fescue grasses by additional seeding, is still a work in progress. However, a recently acquired Wiedenmann Terra Rake has an important role to play.
"We'll be using the rake to thin these areas out regularly," continued Stewart. "It is crucial be able to use the rake so we can avoid lifting the turf and re-laying it." 
Already familiar with the Terra Rake's results having borrowed one for an extended period, Stewart was keen to purchase his own 2.3 m version from local dealer, Fairways GM, exclusive supplier of Wiedenmann UK in Scotland.
"We've wanted one for a while. We have a Super 500 and those two go hand -in-hand for rough management, particularly for thinning out the rough and removing dead material. Together, they speed the process."
Stewart's plan for the Terra Rake means it will be active across Western Gailes' heavy rough, the semi rough and on the fairways.
"We've rough to manage throughout the course on every hole. In places the terrain is quite undulating. I like that the Terra Rake comes with an adjustment so you can lessen or increase the intensity of the tine vibration."
"Our heavier rough will be tackled twice a year. The rake, operating in both dry and wet conditions means I've a flexible tool to deploy when other work can't go ahead. As we go through the season. we will use it for the semi roughs to stand the grass up before we cut, to make the task of cutting easier and, of course, to benefit presentation."
"Some other fairway areas will also benefit from more attention. A couple of drought periods in the last two years has weakened them, so the rake will go in to pull out organic matter; then we'll blow the dead matter to the side to be picked up and collected with the Super 500. The spring tines on the Terra Rake help create space and a receptive seed bed before we follow on with the Wiedenmann Terra Float seeder."
"Ideally, we'll make a start in February or March. The bulk of the overseeding works tends to take place at the end of the year but we will still be using it to remove dead material earlier on in the season."
The arrival of their own Terra Rake gives Stewart and his team an impressive fleet of Wiedenmann machines, all purchased from Fairways GM.
"When I joined, we had a Super 500 and a Terra Float. We added a Terra Spike GXi8 HD for aeration; a Terra Brush which we use throughout winter for brushing our fairways and now the rake. Just about a full Wiedenmann set, so not bad at all," concluded Stewart.