Retiring Ronnie makes two last purchases for Buchanan Castle GC team
Thursday, 26 May 2022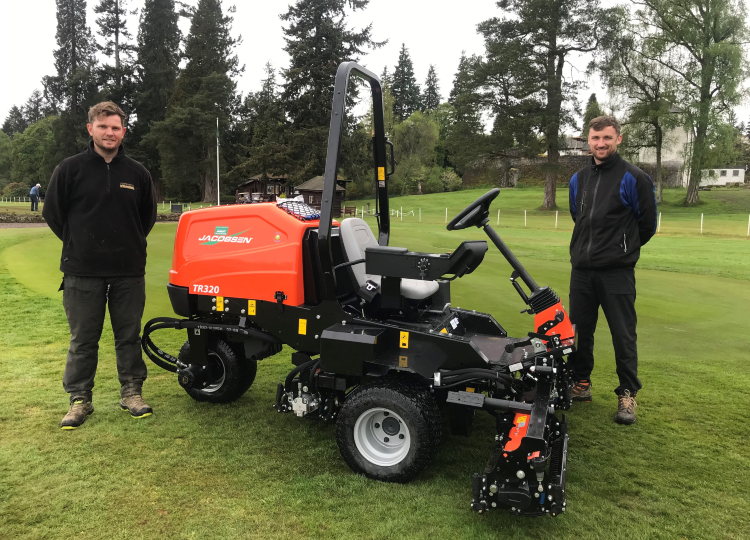 Buchanan Castle GC's course manager, Ronnie Myles, retires on May 29th after 50 years' greenkeeping, the last 15 years as head greenkeeper at the Drymen club.
In a busy career, Ronnie has also worked at clubs in East Kilbride, Erskine, Scarcroft, Cathkin and Helensburgh. At least 12 of the staff he has trained have gone on to become head greenkeepers themselves. 
Ronnie's last two purchases have been from dealer Fairways GM at Inchinnan, to help the team at Buchanan Castle maintain quality of presentation.
First to arrive, at the start of the year, was a Wiedenmann Super 500, four-in-one collector, sweeper scarifier, and its versatility has been a revelation at the James Braid-designed course.
"It was still winter and the difference it made was unbelievable," said Ronnie. "Working in tandem with our blower, it cleared and collected leaves and other debris in one pass. We had so many stormy days, so it was busy up and down the course, back and forth. Our golfers were cock-a-hoop because it instantly presented the playing areas to the best standard."
"In the spring, we switched the flail paddles to scarifying blades and it scarified all the fairways with minimal disruption. A good, neat job. We just haven't had a chance to get it onto rough management duties, but that will happen in time."
In April, Ronnie's team took delivery of a Jacobsen TR320, high traction contour trim mower. Highly manoeuvrable, it is a reel mower which works equally efficiently on flat or sloped, and, on wet or dry turf. Purchased to bring added quality to bankings and surrounds across the parkland course, it too, is an instant hit.
"I'm so impressed," continued Ronnie. "It has transformed the areas we got it for. Before, we couldn't get too near the bunker edges. However, the TR320 allows you to get up close, right to the edge. It has eliminated 80-90% of our need to use a hover mower. Previously, the hover mower would take one person the best part of a day to go around. With the Jake we are done in a couple of hours. The finish is far neater and someone is free to do other duties."
Ronnie says that while it is imperative to buy the right machines for purpose, reliable service and back up from a dealer also plays a significant role in the purchase. "I've known the Rae family for a very long time, so I know with Fairways we are in good hands."
Taking over from Ronnie will be his two deputies, Chris Prior and James Macdonald, who both become joint course managers.
"I wish them all the best for the future, they both absolutely deserve the opportunity. They will be ably supported by John Steel, and our newly recruited 16-year-old apprentice, Tom Bruce. I know they will all do well."
While Ronnie is happy to be standing down knowing the course is in capable hands, his days won't be too quiet.
"I'm not completely retiring," said Ronnie who is moving to Stirling to be nearer family. "When you work 50 years it would be impossible to sit back and do nothing. I'm taking on a part time role with a club in Stirling which will keep me busy at least 20 hours a week."
In April, Ronnie was elected Regional President of BIGGA for Scotland & N Ireland, and in July, he is one of the greenkeepers selected who will support the R&A during The 150th Open at St Andrews.