Wiedenmann Terra Spike GXi8 HD a hit at Bishopbriggs GC
Tuesday, 25 February 2020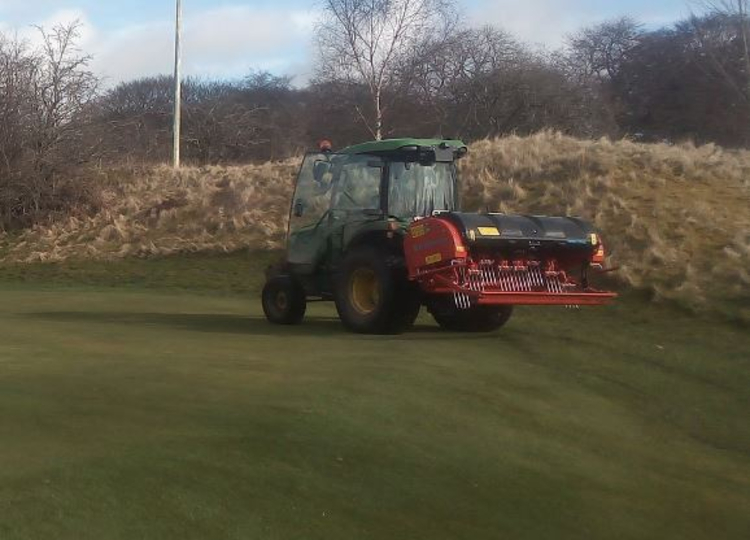 Several days of torrential rain thwarted the immediate use of the new Wiedenmann deep spike aerator at Bishopbriggs GC. The team had selected the Terra Spike GXi8 HD for use predominantly on their greens, tees and approaches with flexibility to do some fairways as well. As soon as the ground dried up and conditions prevailed their Terra Spike was out at the first opportunity. Holes were punched on all greens with 12mm tines to a depth of 250mm.
"The TERRA SPIKE® GXi was especially developed for use on golf greens, tees, and sandy sports fields. Its excellent finish is equally popular with operators and players. The compact mounting is suitable for tractors from 15 kW (20 HP) and allows large area coverage with simultaneously impressive work quality. Two scales and three cranks ensure easy setting of work depth and incision angle." – www.wiedenmann.com
The tines on the GXi8 are near to the front roller resulting in a uniform finish as the spiking action is exceptionally precise and accurate. Constant hole-spacing is maintained even at high forward speed so when following the contours of the ground the quality of work remains high. 
The GXi8 is a market leading machine which boasts innovative technologies, more information is available on www.wiedenmann.co.uk and here at www.fairwaysgm.co.uk.
We at Fairways GM are the exclusive Wiedenmann dealer for Scotland, please get in touch with us for more information.