Health & Safety prioritised as Scottish Borders Council chooses agria 9500 for high slope mowing
Friday, 16 September 2022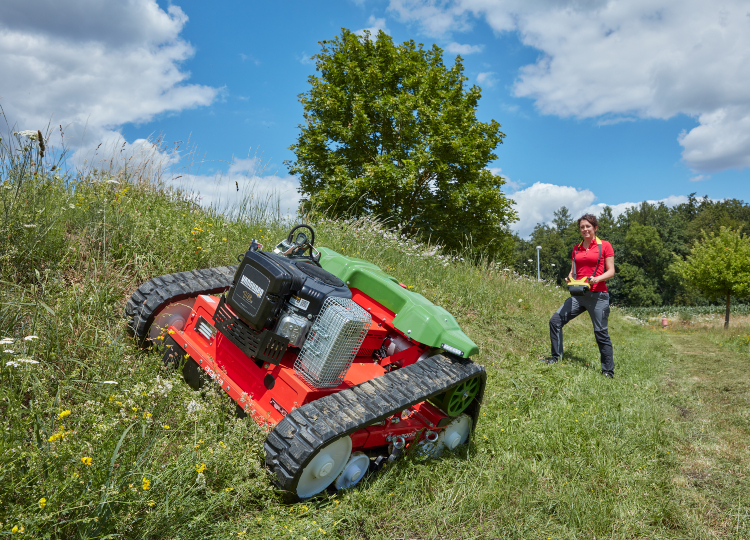 Scottish Borders Council has purchased an agria 9500 hybrid remote controlled banks mower from Scottish dealer, Fairways GM.
Kenneth Naylor, Scottish Borders Council's Fleet Manager, based at Newtown St Boswells, said the purchase prioritised H&S for the Council's operations team.
"We've used handheld tools and hired ride-on mowers but tipping and stability were always concerns. Slopes need something safe."
"The Agria is an unusual and distinctive piece of equipment. I saw something remarkably similar a few years ago in Portugal, which reminded me of a tank, and I thought, that's the future. It is great; they go anywhere, do anything. You don't have trips, falls or vibration worries. Your team is safely positioned on the flat up to 100 metres away. It really is the way forward," he said.
Scottish Borders Council has opted for the 70 cm version agria 9500. With brushless motors and electromechanical breaking it takes manoeuvrability to a new level, quite literally, on banks and hilly areas up to 45 degrees. Operated with a handheld control pad and joystick it has a hybrid power system which helps to minimise fuel use.
"Primarily we'll be using ours anywhere that's on a slope, so high banking at a housing estate, a park or cemetery, or in a town centre. Instantly they reduce risk for our operating team. It works equally well on the flat, too, but our focus until the end of the season is cutting high areas and making them more presentable."
Rob Hogarth, Fairways GM's Regional Sales Manager delivered the machine at the start of September along with Andy Kerr, Wiedenmann UK's/ Agria UK's lead demonstrator and installer.
"Handover training for three of our operators and one from the mechanics team was very thorough and helpful," continued Kenneth Naylor.
"We'll see the season out with it and then bring it back out next year when grass needs to be cut again. We've been told if we need more operators trained or if a refresher is needed, then just to get in touch, that's the sort of support we want from a dealer."
"There is a wider version, but we chose the 70 cm version because it can fit into the back of a van without a trailer. Knowing we have an Agria in the fleet just removes some of the worries about H&S."
Fairways GM's Rob Hogarth said:
"The 70 cm agria comes with a powerful 16 hp Briggs & Stratton engine and mows wild growth effortlessly, leaving a clean even finish. The caterpillar tracks help locate and tame visible areas which for Kenneth's team would have been previously unreachable."
"Future proofing and sustainability credentials haven't been forgotten. Brushless motors mean they are maintenance free and bring a more precise, fluent feel. Innovative 'electric hybrid drive' means Safety Extra Low Voltage (48V) electricity is generated as the petrol engine drives the mower blades and generator. It's a sound choice."