Literal 'water shed' moment as Leven Links take delivery of Hi-Spec water bowser from Fairways GM
Wednesday, 04 May 2022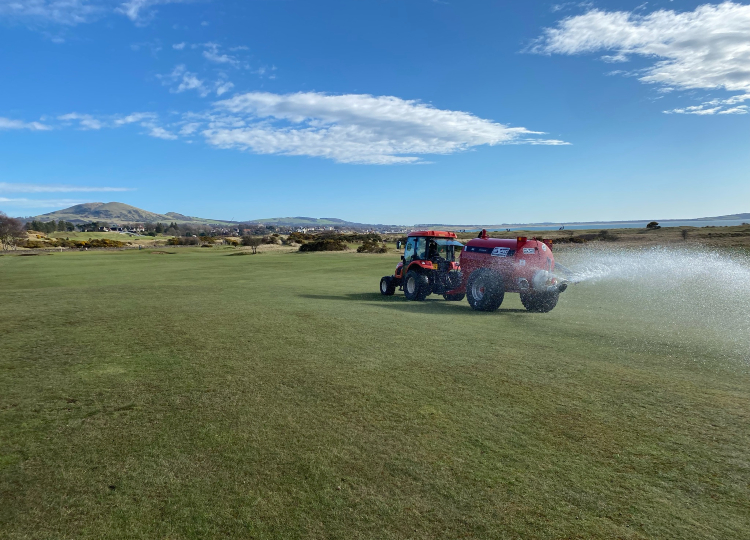 Historians reckon Fife's Leven Links is one of the first pieces of golfing land in the world. It can trace its roots back to 1820, with golf played from 1846. It is also thought to be the first course ever to have both 18 tees and 18 greens and holds the honour of hosting the oldest open amateur stroke play championship.
In every sense, Leven Links is a traditional links; ancient sand dunes, undulating fairways, burns, pot bunkers and fast putting surfaces. Unusually, two clubs share the course, Leven Golfing Society and Leven Thistle, each have their own clubhouse but work in partnership.
Leven Links Joint Committee's mission is to look ahead innovatively. Leading from the front is course manager, Craig Berry.
Craig accepted his role with the club in August 2021, joining from St Andrews' Links Trust, where he was Old Course Supervisor. Earlier in his career, he had worked at both Leven Links and Lundin Golf Club, so is uniquely experienced with the legendary golfing terrain of the Fife coast.
"Leven Links is a predominately sand-based links golf course with natural undulating terrain," began Craig. "Maintaining a busy golf course like Leven holds its challenges. When it comes to fine turf management, moisture management is top of that agenda. Our short-term strategy is to look at ways to apply more water on our fairways, sufficiently and accurately. The Leven Links Joint Committee has been as good as their word, and it is all beginning to come together."
In February, contractor Hydracrat, after exploratory work, set up a new production water well, providing a sustainable supply of groundwater to help fulfil irrigation needs for the longer term.
In March, a Hi-Spec VacTank 800 single-axle water bowser which can spray 3600 litres of water was delivered by local dealer, Fairways GM at Kinross.
"The bowser, the wetting agents, surfactants, and fertilisers are all part of our strategy to try to sustain plant health," continued Craig.
"Several of the heavier fairways like six and twelve do not need as much help. As you venture closer to the sea, the drier our fairways become; they are like sieves which do not hold onto much water."
"When we spray surfactants and follow on with water, the surfactant gives us a greater bed to penetrate, it spreads and rehydrates through the profile, and that is a great tool for us."
Once their VacTank arrived, Craig and his team of five were quick to take advantage of their new mobile water supply.
"We have a storage tank and are plumbing a borehole to use water from there. Soon we will be using it on demand. Filling the bowser is easy, you just insert a hose, watch it fill and after five minutes or, so it is loaded with 3600 litres. The tanker incorporates a pump driven via the PTO shaft. It is compatible with our 60 hp tractor. Granted, you must take it easy when it is full, especially driving over the larger humps on our fairways. The team know to go down a gear for them. On the bumps, it will put out a little more as you cannot regulate the back gate, but it is not a concern because the fairways need the water. I would rather the team take their time and be accurate. For us spraying out the tank takes about the same time as it does to fill, depending on the gear ratio and rate. We get about a 10-metre wingspan of soak."
"Essentially our goal is to mimic the normal irrigation cycle you would get overnight from your own system. We have managed to calculate we are going at the equivalent of a 3 mm irrigation run which is pleasing to see."
"We have been seeing an increase in drought spells; obviously at the start of the year, we had a lot less water. Currently, we apply a wetting agent every four weeks and before the bowser, hoping that the rain would follow. But now with a bowser, we do not have to wait for the rain. We are in control… we can go when the weather is with us, when it is calm and better forward plan. We can put a surfactant down with the sprayer and then get in behind with the Hi-Spec."
"This machine is great. We will continue to keep the surfaces hydrated with the bowser, and through time we should reap the rewards. The challenge is keeping that going alongside all your regular maintenance tasks," concluded Craig.
Fairways GM's, Area Sales Manager, Mike Lindsay, who delivered the bowser, said:
"Hi-Spec VacTanks are more commonly associated with agricultural usage but there are golf venues across the UK with them. Craig's came with the golf course kit option, which helps deal with undulations. His is called the 800 – named because it takes 800 gallons /3600 litres. It is perfect for his purpose."
Leven Links will play host to the European Tour, Eagle Orchid Scottish Masters from Sep 14 -16, broadcast by Sky Sports.