Wiedenmann's Terra Float Air has tool and seed sleeve options to suit
Thursday, 16 February 2023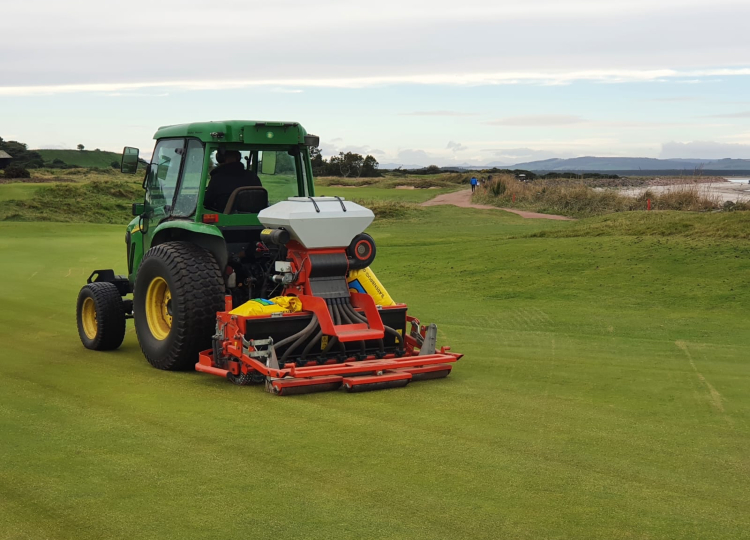 Wiedenmann UK's Terra Float Air has four tool options to let operators vary sizes of seed 'pots'.
The distinctive Air is a 3-in-1 combination pneumatic overseeder with forward speeds of up to 10 km/hr and incredible accuracy in quantities as low as 1.0 gm per m².
Its most popular tool is the cone shaped option, introduced in 2020. Designed like a point of a ballpoint pen, the more pressure you exert, the deeper and wider the hole becomes.
Without weight or pressure, the hole size produced can be around 6 -8 mm deep which is ideal for bent applications.  Adding some weight to the tray pushes the nose deeper and wider, making it 12-15 mm in diameter at  12-15 mm deep, so more suited to bigger seed types, like fescue and rye.
The versatility of the cone tool means operators don't have to change the tool heads when they switch seed types in the same session. All they have to do is add or decrease weight to the trays.
Eoin Riddell, Course Manager at Royal Dornoch Golf Club, is a fan of the cone tool.
He said: "When the Air came out at first, I liked it, but its spiker-headed tools that make the seed bed holes weren't so good for fescue; the holes were too small."
"Then I saw it again at The Links Club at Carnoustie in April 2022. Wiedenmann UK's Mike James demonstrated the new conical tool which make holes especially for fescue. Instantly, it resonated with me, and I thought, 'Yes, that's exactly what I need'."
Seed is an increasingly precious resource, not to be squandered.
Multiple dosing options are available for every seed type, including soft-touch dosing sleeves for coated seed. All aspects of seed delivery use electric-drive technology.
The Air's seed-dosing sleeves and fan are both electric powered. Seeds are delivered pneumatically down a series of pipes onto deflector plates, which direct the seed into the plant 'pots.'
Everything can be calibrated from the cab. An on-board computer stores data from previous runs and allows you to amend the application rate at any point in the process. This allows for 100% accuracy, important when dealing with small quantities or indeed, valuable, or rare seed.
After the seeds are in the ground, a double-layer sweeping brush follows on and it, too, has floating properties. A further three-part roller, like the one on the Wiedenmann Terra Spike GXi6, means you have an optimal brush and roller combination to incorporate top dressing materials to the ground, before smoothing the surface.
Customers can specify the firmness of brushes, so invariably those on links golf courses, working with fescue grass choose a softer brush. An optional load relief kit also allows the operator to vary the weight of brush. Depending on turf type, or indeed, weather conditions, the brush action can be made lighter.