Fairways Sportsgrounds wins three-year project
Wednesday, 22 September 2021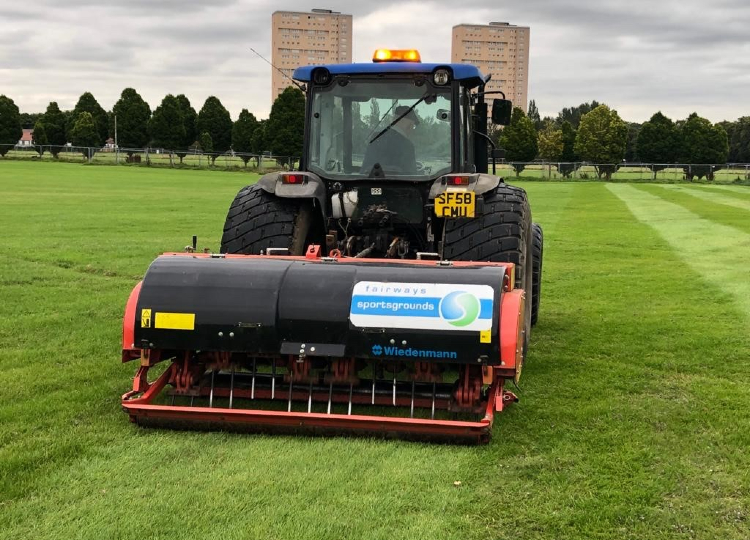 Fairways Sportsgrounds, sister company to Fairways GM, has won a contract to make improvements to natural turf venues across the Glasgow City Council area.
Dave Gibson, Fairways Sportsgrounds' Contracts Director said: "For the last 12 months we have been carrying out improvement works at the events arena in Bellahouston Park. Steadily it has been returned to excellent shape; additional drainage and lots of care at every stage. This, however, is a different contract which includes top dressing and terra spiking of natural turf sites throughout the city for three years."
"The first thing we've done is to extend our machinery fleet. Sharing a maintenance workshop and yard with Fairways GM at Inchinnan definitely has benefits. Orders have been placed for an additional Pro-Cast Bulk Top Dresser and a further Wiedenmann Terra Spike XD deep aerator."
"Having the right equipment for the task is essential. When it comes to top dressers there's nothing that comes close to a Pro-Cast. The consistent spread pattern goes to 16 m at 2 m³ per minute and we need that reliability and reach, but a major benefit is that it works equally well in the wet. The tank on the PC5 holds up to 4750 litres, and the PC4 takes 4000 litres, so both are ideal for pitch work."
"To help with the aeration commitment, we've opted for another Wiedenmann XD. It's fast and deep and we can get around six pitches done a day. It does a decent 5 km/hr and reaches down to 275 mm. Our existing XDs have been effective and efficient. The tines enter and leave the ground very cleanly, for a big machine it's super neat. Its exemplary H&S credentials mean it is also kind to the operator which is hugely important. We're delighted to have won this work and are delighted to be continuing to buy machinery from Fairways GM who provide excellent service."