Whitecraigs GC updates Jacobsen fleet
Thursday, 16 July 2020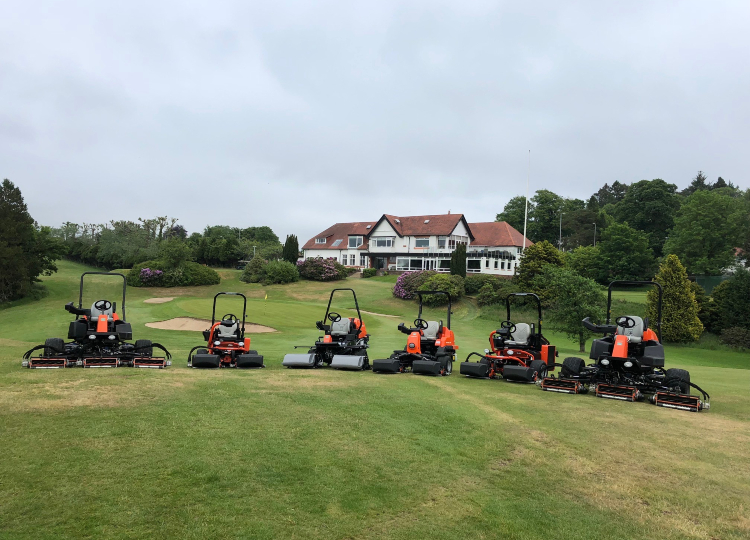 Whitecraigs Golf Club on Glasgow's south side has renewed its fleet of Jacobsen machines with dealer Fairways GM. Six new machines will help maintain their main 18 hole and nine-hole Par 3 courses.
Delivered to the club were two LF570 lightweight large area reel mowers, an Eclipse 322 greens mower, two GP 400 greens mowers and a TR 330 tight area mower.
Peter Hall, Course Manager, said: "We had a good look around elsewhere before we made what I think are some sound choices. It's 'like for like' with everything improved. Everyone was comfortable with what we had so we are just going that step further. We've also got a maintenance contract which is peace of mind and guarantees everything to be in top working order. It's a good deal for my team and for the club."
"The two GP400s for example are three-wheel drive, as opposed to the two-wheel drive machines they replaced. They climb steep bankings effortlessly, even in wet conditions."
"The TR 330 has cutting units that move side to side, this allows us to alter wheel tracks around bunkers each time we cut. This enables us to spread the wear and keeps the turf healthier."
Fairways GM's Regional Sales Manager, Rob Hogarth, said "The whole package was delivered shortly after lock down ended so it's great to see Peter and his team enjoying their new machines. We pride ourselves on good service so their contract means we absolutely go the extra mile to keep everything running smoothly. At demo the TR 330 impressed. Its technology allows operators to effortlessly shift all three cutting reels to either side of the machine, creating up to 45 cm of offset. Bunkers and other hazards can be trimmed while keeping the mower away from the edges. You can see already the difference the TR 330 is starting to make."
It is exciting and encouraging to see this club making an investment in machinery despite the ongoing coronavirus crisis. This investment will benefit the club and its members for years to come.