Scotscraig GC future proofs with a Wiedenmann Mega Blower
Wednesday, 27 April 2022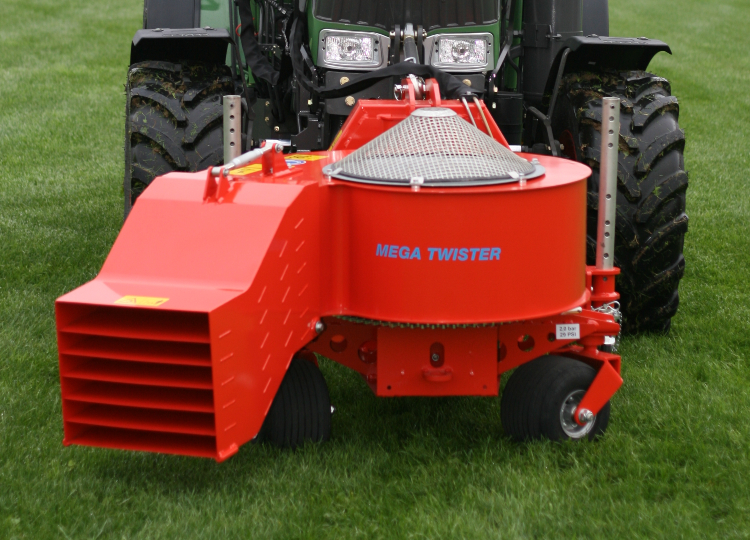 A golf club with a 205-year-old history has bought a powerful Wiedenmann blower to save significantly on time and be ready for any adverse weather conditions.
Scotscraig at Tayport, Fife, founded in 1817, is 13th on the list of earliest golf clubs. Its amateur gold medal competition, which started the same year, is still going strong, and lays claim to being the world's oldest.
Near neighbour to both the Old Course, St Andrews, and Carnoustie Golf Links, Scotscraig's design was influenced originally by Old Tom Morris, and later by James Braid. It is a championship course in a traditional loop. Uniquely, it is part links, part heathland and part parkland in equal measure, presenting a recurring challenge to golfers, and its greenkeeping team, alike.
Course Manager, Darren McKenna, joined the club in July 21, as deputy course manager, became acting course manager in October 21 and in February 22, his role in charge was confirmed.
In March, he took delivery of a Mega Twister from Wiedenmann UK's Scottish dealer, Fairways GM at Kinross.
"With an immediate requirement for a blower, I went straight for a Wiedenmann because of reliability and efficiency. Previously as course manager at Camperdown (Dundee), we had owned a Wiedenmann Whisper Twister, then later upgraded to a Mega Twister, so it is kit I know well, and its ability is proven," began Darren.
"Last autumn and winter much debris here was collected by hand, and it took forever. Successive storms added back-breaking work for the team. With the Mega Twister, the clear-up from storms will be so much easier. This machine will save time and take the strain, powerful enough to move debris deep into the rough, or in instances when we need to gather, it can be guided into manageable places to be collected."
The Mega Twister has 390 m³ per minute worth of blow and can either be trailed or front mounted. Its swivel action is revolutionary, 230° to be precise, and has a patented "whisper" engine to keep noise to a minimum.
"It's one of those machines that has a use every day but come the autumn or extreme weather it will be out extensively, that's its busy time," continued Darren.
"Through the season, the Mega Blower will be principally for presentation and quality; it works well tidying dried fairway divots, blowing them off, or, if it has been wet, and dead grass has fallen from the fairway mowers, this can be blown, too. Our fairways are narrow but undulating. They are block cut so we drive up the light shade turn around and come down the dark line. It is simple, no need to get out the cab. The blower nozzle oscillates in whatever direction is needed, and can go up and down, while the support wheels are kind to the turf."
Fortunately for Darren, and his five-person team, the links element of the site means not all Scotscraig's fairways are tree-lined, but they still have a fair share. Almost without exception, the on-course trees are Scots pine with only a handful deciduous trees. So, from Autumn onwards, a key task is to tidy fallen needles.
"At some point you do need to collect needles, but for the most part they can be dealt with efficiently by blowing them to the edges and that's precisely why we needed the extreme power of the Mega Twister," concluded Darren.
Scotscraigs has two other Wiedenmann pieces in their fleet, a double width Terra Brush and a Terra Spike GXi8 HD.
Mike Lindsay, Fairways GM, area sales manager,who delivered the blower said:
"A Mega Twister gives infinite possibilities. The obvious uses are for leaf and debris clearance, but it is the perfect wing man for so many other machines and operations."
"Scotscraig - along with virtually all other east coast Scottish courses - was impacted by Storms Arwen, Barra, Malik and Dudley this past winter. Going forward, a Mega Twister is the perfect way to future proof."