Wiedenmann Terra Spike GXi8 HD gives boost to Myreside & George Watson's College grounds
Thursday, 22 December 2022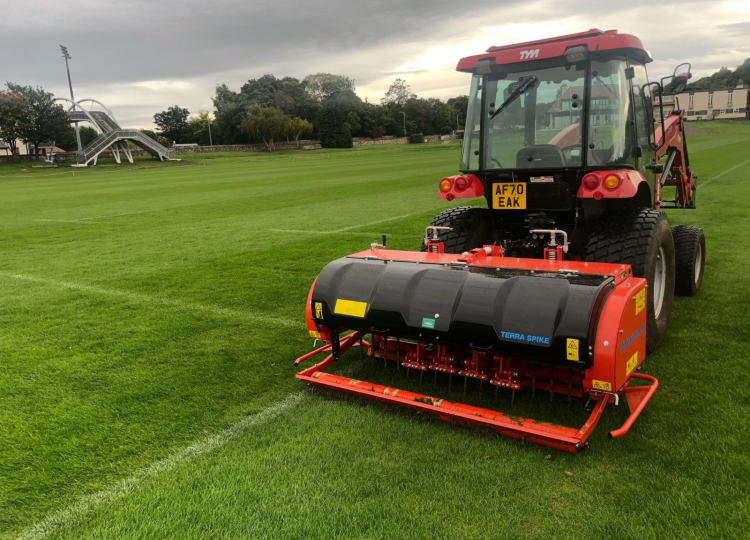 Myreside Stadium in Edinburgh is home to George Watson's College and Watsonian rugby club. Regular fixtures held there include Tennent's National League Division 1, FOSROC Super Six Championship and Tennent's Women's Premier League matches.
Beside the main pitch, Head of Grounds, Craig Eccleston, and his team of five, have eight other full size rugby pitches, two large training areas and three cricket squares to maintain, as well as the school's estate.
In September, they took delivery of a Wiedenmann Terra Spike GXi8 HD deep aerator from Wiedenmann UK's Scottish dealer, Fairways GM.
Craig Eccleston said: "Aeration is a massive part of pitch playability and it's important that we give all our surfaces best care. In summer I went to a demo at Dollar Academy, where the Wiedenmann team answered my questions. I thought the GXi 8 pricewise would be out of my range, and we'd go for a smaller one, but I was pleasantly surprised when it came in under my budget."
"The long life of the Wiedenmann was a big consideration. The school plays so much rugby, and if you factor the FPs' activity too, all pitches are busy right through until the summer term, when focus switches to athletics and cricket."
"We've relied on contractors to come in on a pre-booked day which can bring limitations. Sometimes the conditions don't suit, or fixtures change, and it doesn't get done. I made a financial case that if we owned our own machine, we could go out as often as necessary, making use of any windows of opportunity, especially as a full pitch can be done in just over 2.5 hrs. Having as many pitches, the numbers stacked up."
Craig, who took up his position almost three years ago had previous experience of working with Terra Spikes when he was head groundsman at Giggleswick School, North Yorkshire.
"This is a newer model to what I had before and I like that there are minimal grease points, so it is easy to maintain. This one is so quick and so smooth. When we look at the weather forecast for the week ahead, I say to the team, 'let's get the machine on and we'll pick a couple of pitches off each day and get around everything'. It makes such a difference."
"As soon as the GXi8 arrived in September we did all of the rugby pitches with 20 mm tines at once. A few had a second aeration in November. During January or February, we will go again once, leaving them until renovations time, which for us is the end of July."
"Our cricket wickets only need to be done annually so ours were aerated at the end of October with 8 mm tines."
"I'm happy with its progress. Ultimately, we invested in the machine to improve the overall playability of the pitches to enhance their durability and performance. This enhances the enjoyment for the pupils, letting them play fast expansive rugby. The school has been particularly good investing in what we need."
George Watson's College is a single campus co-educational independent day school in the heart of Edinburgh, for young people from 3-18 years.